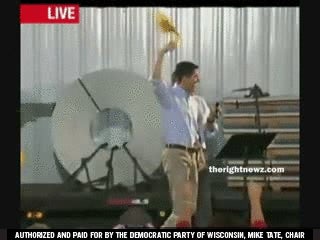 He wore a Packers jacket at Lambeau today, and his daughter wore a cheesehead with the Romney/Ryan logo on it. The Green Bay Press-Gazette:
He watched his children, Liza and Sam, play bean-bag toss, also known as cornhole toss, with other children. "Sam's the cornhole king," he said.
GIF via the folks at Total Packers, who were not amused when cameras caught Ryan waving the Terrible Towel at a campaign stop in August.