Dell Demps has not had a great run as general manager of the New Orleans Pelicans. Mostly he has squandered the early part of Anthony Davis's career, weighing down the roster with stiffs like Ömer Aşik and Alexis Ajinça, and making years' worth of win-now moves that never actually produced a sustained run of success. This current Pelicans team is good, but mostly that is a function of Anthony Davis becoming the God of Thunder. They seem stuck at least one tier below the best of the Western Conference, and with no clear path to significant improvement, it will surprise exactly no one if Davis declines a forthcoming designated veteran player extension offer and winds up in, say, Boston by the end of next season.
So Demps isn't, like, the greatest at his job. It's still pretty rude of former NBA commissioner David Stern to just dunk on the guy, as he did during an extensive conversation with Chris Ballard of Sports Illustrated, when discussing the infamous vetoed Chris Paul trade of December 2011:
"There was a trade that Dell Demps wanted us to approve and I said heck no, but he had told Daryl Morey and [then Lakers GM] Mitch Kupchak he had authority to do it and he didn't. I said no. We just settled a lockout and you want me to approve a basketball trade?"

"He had agreed to [trade Paul to the Lakers for] Kevin Martin and Luis Scola or something, and I said we can do better than that.... And the next trade was [to the Clippers for] Eric Gordon and Al-Farouq Aminu and what we thought was a really great draft pick, the 10th pick, which turned out to be Austin Rivers. At least those three and someone else [center Chris Kaman]. But Dell Demps is a lousy general manager and none of those players are currently with the team anymore, and he may lose Anthony Davis."

Stern doesn't have that exactly right. The vetoed trade, as reported at the time, would've returned Lamar Odom, Kevin Martin, Luis Scola, Goran Dragić, and the Knicks' 2012 first-round draft pick. The Pelicans wound up with a better pick in the end, but the package of players probably wound up as a wash. Either way, that's not really the substance of Stern's comments, here—he's saying if the return doesn't look great in hindsight, it's because Demps sucks at assembling a cohesive and competitive roster. And he may not be wrong! Demps did, after all, use the draft pick on Austin Rivers.
The Pelicans, for their part, would very much appreciate it if a certain former NBA Commissioner would stop taking a huge crap on their general manager, even if a 3–0 start isn't exactly the most convincing evidence of his excellence:
G/O Media may get a commission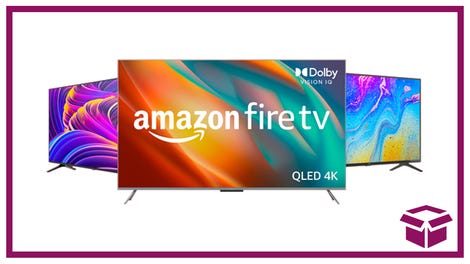 Ooh. stunning.
New Amazon Fire TVs
The NBA is just cranky as hell these days.