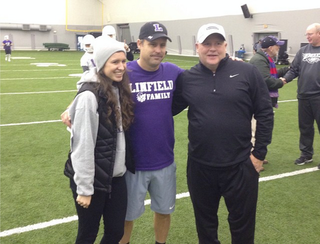 Sound the siren: We have some D-III football beef. This beef is HOT.
Pennsylvania's Widener University played Oregon's Linfield College in the Division III college football quarterfinals Saturday, and Linfield manhandled the Pride, 45-7. The day before, Philadelphia Eagles head coach—and former Oregon Ducks head coach—Chip Kelly visited Linfield's team, and took a photo with head coach Joseph Smith.
After the loss, Widener coach Mike Kelly (no relation to Chip) brought up the visit, and sounded offended that the Eagles coach didn't support the local boys. From Philly.com:
"Make sure you put in the paper that we thank Chip Kelly and I hope the Seahawks do well tomorrow," Widener coach Mike Kelly said. "He was helping them out. Maybe somebody in Philadelphia ought to buy him a map so he knows where he lives now. But, go Seahawks."
BEEF. Should Mike Kelly ever cross paths with Chip, well, something will happen.
Photo via Instagram
H/t to Travis