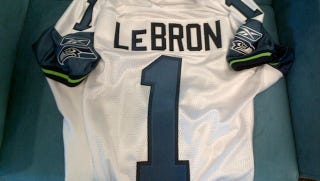 Your morning roundup for Oct. 13, the day we learned just how dangerous some sex toys can be. Photo via @PeteCarroll. Got any stories or photos for us? Tip your editors.

What we watched: Chris Carpenter, so masterful in Friday's elimination shutout of the Phillies, was spotted a four-run first-inning lead, which should have been cause to turn off the television right then and there. But because Carpenter threw just 48 of his 89 pitches for strikes, Tony LaRussa decided to start playing reliever roulette after just five innings. And the Cardinals won anyway, with Fernando Salas, Lance Lynn, Marc Rzepczynski and Jason Motte combining facing the minimum of 12 hitters from there.
This postseason, like that remarkable final night of the regular season, has provided unpredictable story lines in unlikely spots seemingly every night. We get two more games again today, and they cannot get here quickly enough.
Elsewhere
The rally squirrel affirms its legal rights:
"DEaR PEEpLE of SAiNT LOuIs,
My NaMe is RiChaRD FLuFFYTAIL, III, EsQ. I am A SQuiRReL AttornEY with the FiRm of ACoRN, ChEStNUT and PINECone, LLP. I am LICsenSED To pRaCTicE SQuiRReL LaW IN the STaTe of MissOUri as WEll as CAliForNia, New YORK anD aLL FOREsTS.
iT haS ComE To MY aTTenSHUN That ThE SAiNT LOuis CaRDiNaLs haVe Been UsinG the LikENess of My CLienT, "RaLLY SQuiRReL," In TEEM maTERiALs dURinG tHe NaTIONAl LeAgUe ChaMPEENshup SeeeRiES." [Wall Street Journal]
The NBA's competitive balance lie: "With a harder cap, flexibility will decrease as teams are unable to exceed the cap to take on a bad contract in a desperate attempt to win a title. (No Magic trading for Turkoglu and Gil in one weekend, in other words.) Teams that make mistakes will be stuck. You shrink the rich teams' margin for error by making every signing that much more impactful. That's a terrible recipe for competitive balance. Instead, if it's truly concerned with competitive balance, the league ought to work to expand the margin for error for its low-wealth teams. Make it easier for teams like the Wolves and Kings to rebuild quickly and make a lunge for the top. How? Shorter contracts—which the players' union has reportedly consented to in lockout talks—is the most obvious and important way. Robust revenue sharing that dampens the innate, frankly unearned advantages of large market size some teams have is another solid step toward better increased payroll flexibility and competitive balance. Owners don't want to hear it, but allowing all teams—not just the team's owned by billionaires—to survive mistakes is a better competitive balance solution than making it miserable for everyone." [SBNation]
Your Domino Effect Interlude:

The ring ceremony won't be traditional, either, considering there's no telling when it will be: "But owner Mark Cuban, after careful deliberation, has decided that the Mavericks will receive championship rings for their title that was won in June. By 'careful deliberation,'' we mean it probably came after one night of partying with the players after the Miami series. Back when those things were legal. As you recall, Cuban had an off-the-cuff remark after the championship series against Miami that he thought rings had become too old-school for this day and age. Turns out old-school works for an old team. Anyway, Cuban said: 'I will get rings, but maybe not quite traditional in one way or another.''" [Dallas Morning News]
This is dumb: "The Giants have been using their San Francisco script logo on uniforms and merchandise since 1993, but they never registered the logo. Gogo Sports specializes in knock offs, and registered the logo in March. MLB tried to trademark the logo a month later, but was told a similar design already existed." [Larry Brown Sports]
The LA Times pays tribute to the late Jim Murray: "If you were a sports figure, he gave you his own dimensions. On the famous jockey: 'Billy Shoemaker was born 2 pounds 4 ounces, and it was the only edge he ever needed in life.' Or, describing a boxer at weigh-in: 'Buster Douglas looked like something that should be flying over a Thanksgiving Day parade.' If you were a city, the wonderful needle was ever-present: 'They haven't finished the stadium in Cincinnati yet, because Kentucky had the cement mixer last year.'" [Los Angeles Times]
Merch: Managing editor Tom Scocca and contributing editor Drew Magary have both written books. You can buy Scocca's Beijing Welcomes You: Unveiling the Capital City of the Future here, and Magary's The Postmortal here. Now do it.
Send stories, photos, and anything else you might have to tips@deadspin.com.