Peyton Manning is racking up injuries almost as fast as interceptions. (Almost.) Two weeks ago, it was his right, throwing shoulder. Last week it was his right foot, the one he's clearly struggling to push off of and floating weak, underthrown balls. Before yesterday's terrible 29-13 loss to Kansas City that saw Manning pulled from the game midway through the third, his ribs made their first appearance on the injury report. He's a beaten-up, breaking-down, surgically repaired 39-year old man, and he's looked every bit the part since the season started. Can it get better from here? It can't get much worse.
Manning put up a perfectly lousy 0.0 passer rating on the day, going five of 20 for 25 yards and throwing four interceptions—which could easily have been more. He clearly wasn't right, and after he was benched following his fourth pick, head coach Gary Kubiak said he made the call to spare Manning any further punishment—and that he should have made that call before kickoff.
"To be honest with you, I was protecting him. I was worried about him," Kubiak said. "Let me just say this: Obviously, I'm very disappointed in the football game ... I'm disappointed in myself, this is on me. I probably should have made a decision not to play him in the game. I needed to make probably that tough decision there."
Kubiak said that Manning, who took limited reps in practice all week, had progressed as the days went on—which is a tough sell considering Manning's ribs began bothering him on Friday and Saturday. "I probably should [have], right there, said no," Kubiak said. No one would ever admit it, but the Broncos probably wanted Manning to break the NFL all-time passing-yards mark at home. (Though he knew the game would be halted for recognition of his record, Manning said the stoppage threw him off his game.)
Sunday is done with; the Broncos, at 7-2 and with a three-game cushion in the division, have much bigger problems facing them in the coming weeks and months. They have an all-world defense that has proven good enough to win games even with poor performances from Manning at QB, but that's not enough to make a deep playoff run. Especially not when Manning is actively hurting his teammates, like when he hung Emmanuel Sanders out to dry on a floater—Sanders left with a concussion.
G/O Media may get a commission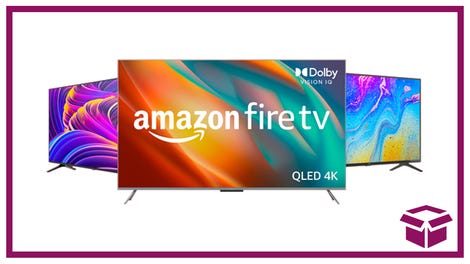 Ooh. stunning.
New Amazon Fire TVs
Denver can either rest Manning and hope he heals up enough to regain his effectiveness, or write him off altogether and hand over the keys to Brock Osweiler, who's spent years in a great situation being groomed for this job. That decision may have been made for them:
Depending on the severity of the pain and the prognosis for recovery, Manning could be forced to sit out a while. His body could use the time. But if Osweiler succeeds in his absence—remember, Manning was ineffective even when ostensibly healthy—the Broncos should be Osweiler's to run.
Kubiak, speaking after yesterday's game, said Manning's still his man.
"Peyton is our quarterback. If he's healthy and ready to go, Peyton's our quarterback."
These last few years since his neck surgery have been gifts, but Manning's decline is the norm and not the aberration. (Extended late-career success from the likes of Brett Favre and Tom Brady, paired with sustained health, are in their way more remarkable than Manning's achievements in Denver.) This is it, one way or the other. Either injury forces Manning to give way to the young guy half a season before he was ready, or he struggles through pain and ineffectiveness to complete a season that will disappoint everybody and torpedo the Broncos' chances. Gary Kubiak shouldn't let Manning be the one to make that choice.