Your morning roundup for May 9, the day we learned of the Village tree thief.
• The Lakers, picked by some delusional folks to win it all, were swept out of contention by the Dallas Mavericks, who were 20 of 32 from behind the arc on Sunday (the Lakers: 5 of 24). Phil Jackson, who will retire this year after winning a record 11 NBA titles in 21 postseasons, will also now be remembered for ending his final post-game press conference with a question that involved the phrase "the bee's knees." The reporter here is Tom Gribble, a radio guy from Dallas who has is known for adopting a 1920-style reporter character he calls "Scoops Callahan;" or, for doing the unthinkable and actually having fun in post-game press conferences while everyone else tiptoes around and tries not to piss anyone off.
• The Hawks-Bulls series is all tied up at two games apiece after Atlanta's 100-88 win at home yesterday. Josh Smith finished with 23 points, 16 boards, and 8 assists, and Jeff Teague filled in, in very-recent-historical-comparisons, with "Derrick Rose-like plays" to put the Hawks over. This is a funny comparison to make because Rose did not play very much like himself last night; he scored 34 points and had 10 assists but it took 32 shot attempts to get there. But the Bulls should find some solace in the fact that Carlos Boozer has, at long last, emerged from his deep second-round slumber of inefficiency and was actually somewhat effective last night.
• Chris Bosh, who had six points and five boards in 30 minutes of play during Saturday's loss in Boston, told reporters yesterday that "My emotions got the best of me" in such a "hostile environment" as the Garden. Everyone has been too nice to inform him that this is mostly just how basketball fans behave outside of Miami and Toronto.
• Detroit stayed alive in the second round with a 4-3 win at San Jose; they now trail 3-2 in the series and will play Game 6 at home on Tuesday after trailing 3-0 early on. But if they fall behind on Tuesday and get frustrated then they can just knock the hell out of the Sharks, like the Lakers did the Mavs yesterday, only the Wings will get away with it, because from what I understand it's all a part of ice stick.
G/O Media may get a commission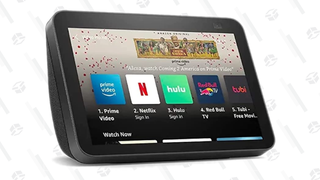 • Novak Djokovic is still undefeated in 2011, which is notable because yesterday he had to get past Rafael Nadal on clay to maintain that streak. After his 7-5, 6-4 upset win in the Madrid Open final, Djokovic has won 34 straight matches and poses an actual threat to take over the world's No. 1 ranking, and if that happens, his father will have to wear a new shirt of Novak wearing a new shirt with a different spirit animal on it.
• That's partly why it is time that we begin panicking about the future of American tennis. The new world rankings are out this week, and it marks the first time in about 40 years of computer-based ranking that there is no American man or woman in the world top 10 for singles. This "globalization" has been called a "seismic shift" in the way the world works, and John McEnroe, American Dictator Of All Things Related To Tennis, admitted that "quite frankly, we fell behind in that department as a country over all." Which, if you think about it, is just another variation on a great modern American theme.
• Manchester United is one point away from clinching the Premier League title, after yesterday's 2-1 defeat of Chelsea at Old Trafford. Quicker than you can say "Quicker than you could say his nickname, 'Chicharito,'" or about 36 seconds into the game, Javier "Chicharito" Hernández struck first for United.
• For the first time in 62 games and 259 at-bats, Derek Jeter hit a home run. Actually, he hit two — both in yesterday's 12-5 win over the Rangers. It was his first since Aug. 24 of last year, when he was a young lad of just two months into his 36 years, instead of a month and a half from reaching 37 years.
• Does part of the NFL lockout mean that teams have to take to shopping malls to find their cheerleaders? Or is this just Americana at its best which is also its worst?
• Butler's second-leading scorer, Sheldon Mack, is leaving school to enter the NBA draft, as are Kentucky's DeAndre Liggins and Brandon Knight. Wildcats fans might be upset about their departures, but John Calipari has a great plan for the 2011-12 season, and that is a new batch of stellar freshman who we'll likely be writing this exact note about a year from now.
• Today is also the day the football died at Nebraska-Omaha. Let's get this over with and blame Title IX already.
• Make sure you check out the latest grown man Twitter fight from the weekend, this one featuring Olbermann and Simmons. Ahhh, vanity.
Recently On Deadspin
A few stories you might've missed this weekend.
Victory: Animal Kingdom, somehow not the name of the newest hipster sensation band, won the Kentucky Derby on Saturday.
Nerd Alert: The New York Times took the time to make a correction about a baseball bat and to prove that they are humongous nerds.
The Fights: What we talk about when we talk about fathers and sons and boxing on mother's day.
Guarantees: In an instant Deadspin Classic, Kobe Bryant guaranteed the Lakers would win the Dallas series, and then didn't, and then the Lakers stumbled out without much class at all.