Let's avoid speculating about why the Lakers are avoiding Kobe Bryant on the court, and why Pau Gasol broke it off with his girlfriend, and how those two things may or may not be related and may or may not have lead to this 4-0 sweep, and just point out that Los Angeles played like a team — despite earlier claims — that knew it was going to get swept, and that couldn't do anything about it.
They didn't "lose like [champions]," as Mike Tirico wished for them; both Lamar Odom and Andrew Bynum were ejected in the final 10 minutes of play for these two cheap shots, and Phil Jackson hardly looked fazed as they were escorted off court. With the Lakers, Hubie Brown says, "you're talking about excellence, you're talking about titles, you're talking about some of the greatest players to ever play, and for this game to end in this matter is a disgrace." Funny. That disgrace felt strangely vindicating.
No confetti fell in American Airlines Center at the buzzer — perhaps in part to pay respect to Jackson's career, and perhaps in part because, the way they're playing, the Mavericks could have much more reason to waste the paper in a few weeks.
G/O Media may get a commission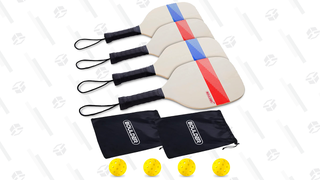 It's Pickleball
Pickleball Sets
How sweep it is: Mavs batter Lakers, 122-86, advance to West finals [Dallas Morning News]