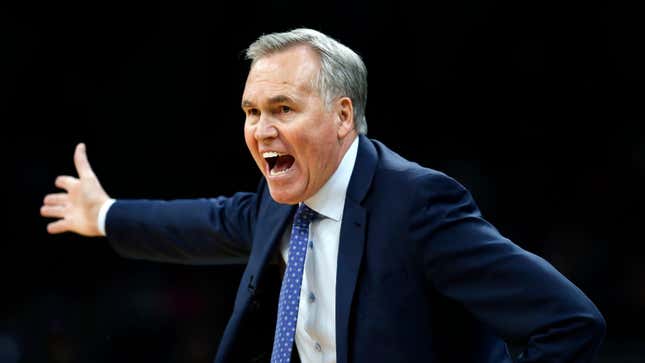 Philadelphia 76ers head honcho Daryl Morey has some big decisions ahead of him this offseason. After another disappointing second-round exit in the postseason, the Sixers parted ways with former head coach Doc Rivers after three years. In three years, Rivers couldn't help the Sixers advance any further in the playoffs than they'd gone the three years prior to his arrival. The next hire must be the right one to match their star, Joel Embiid. One of the first names you'll hear concerning the Philly vacancy is former Suns and Rockets headman Mike D'Antoni. If the 76ers are serious about bringing in "NO D'Antoni," Embiid should immediately request a trade out of Philly.

NBA getting ROCKED in the ratings by the NFL
If the Sixers hire D'Antoni, that should be a clear message to Embiid that Morey isn't serious about winning a title with him as the centerpiece. Whether you believe Embiid can be the lead dog on a championship team isn't the point. We have a large sample size of what to expect from a Mike D'Antoni-coached basketball team. He should've had the 'D' taken out of his name long ago because that's what we've seen when he's coached NBA teams in the past. No defense.
Scoring points and running an esthetically pleasing style of offense is what you'll get, and all fine, and well. But Philly supposedly longs for an NBA championship. But let's give D'Antoni some credit, as he has won Coach of the Year a couple of times and coached in three western conference finals in Phoenix, and Houston. A place the 76ers haven't been since 2001. But as the field begins to dwindle in the playoffs, defense becomes even more critical, and that's where D'Antoni's teams have always come up short.
Don't do it just for Harden
So, unless he's suddenly changed his philosophy since the last time he was a head coach a few years ago, the Sixers should stay far away from Mike D and his seven seconds, or less offense. It wouldn't be shocking if Morey hired him based on their past relationship. And the fact that James Harden was a huge part of those Rockets teams when D'Antoni was at the helm. It makes sense when factoring in familiarity.
Sure, these leagues all love a good retread coaching hire which is what is likely to happen. But when you have a player like Embiid, bringing in a coach that doesn't even acknowledge defense as part of the game is a mistake. Sam Cassell is a guy I'd love to see finally get his opportunity as head coach. He's in Philly already and has been an assistant for well over a decade on multiple teams. Also, Cassell wouldn't be a retread. Although he coached under Rivers in Philly and LA, sometimes a different voice, and perspective work wonders. Candidates like Nick Nurse, Mike Budenholzer, and Monty Williams will also be on the radar for the Sixers.
There are plenty of options at Morey's fingertips, but selecting the right one is most important this time. Doc obviously wasn't the answer, and based on history, neither is D'Antoni if you're playing to win a title. Roster construction is also an issue, but if Harden sticks around, D'Antoni is even more likely to be coaching in Philly next season. Morey chose Doc over him three years ago, so he could be looking to rectify that decision.