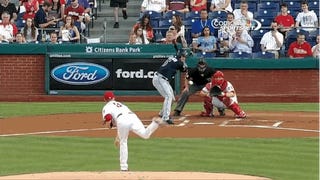 The Phillies announced earlier in the week that their three-man broadcast team of Tom McCarthy, Canadian Stone Cold Steve Austin Matt Stairs, and Jamie Moyer would call Friday night's game against the Braves from a special location in centerfield. Good idea!
It's a pretty impressive feat all around. McCarthy not only calls Freddie Freeman's three-run home run in the first inning—about halfway through which everyone realizes it's coming for them—but is able to simultaneously track the ball for his own purposes and make the play.
"It was just really cool. The most unimaginable thing that could happen," McCarthy said. "It was a remarkable sequence of events. The biggest thing is, I was trying to call the play. Then I said, `Please don't drop it."

McCarthy was broadcasting the game from center field along with analysts Matt Stairs and Jamie Moyer, both former Phillies. While neither Stairs nor Moyer brought a mitt, McCarthy had one that he uses to play catch with his two teenage boys.

"Just jokingly brought it out, more for show than anything," he said. "There's no way I would've caught it without the glove."
McCarthy then threw the ball back onto the field, giving the home crowd an early (if rare) moment of joy in a 4-2 loss to the Braves.
[MLB]