A local Philadelphia iteration of Skippy And Goatface's Morning Sports Holocaust on 97.5 The Fanatic has an infamous caller: "Dwayne From Swedesboro." Dwayne's schtick is that he's black, horny for white women, and runs into all sorts of paternity-test problems. According to an exhaustive, truly impressive investigation from our friends at Crossing Broad, Dwayne is really just the alter ego of a white 97.5 producer, Pat Egan.

Dwayne was supposed to attend 97.5 Fantasy Fest over the weekend, but didn't show. Crossing Broad was tipped off about Dwayne's true identity on Friday, and after he skipped out on showing his face, they got suspicious and followed up the tip. Here's what they found.
A former intern and several other sources told Crossing Broad's Kyle Scott that most 97.5 staff knew that Dwayne, who typically harasses host Mike Missanelli, was a plant, and that his character may have been a long con brought into the world for the sole purpose of harassing the radio host:
Several insiders confirmed that Dwayne was in fact a well-known fake caller amongst 97.5 staffers… except Missanelli. In fact, Dwayne (and potentially other callers) may exist solely to get a reaction out of Missanelli, some say.
G/O Media may get a commission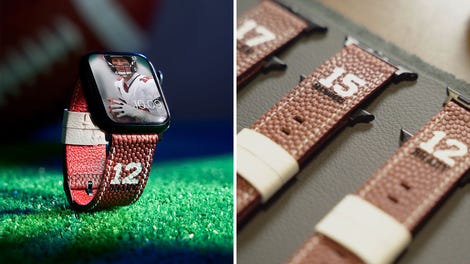 Official NFL PRODUCTS
Official NFL Apple Watch Bands
In order to confirm, Scott followed up on a tip that the real person in Dwayne's Twitter avatar is in fact one of Egan's men's league hockey teammates. After scouring the roster, they discovered one Nosike Onyemaobim, who, well, is Dwayne:
A picture on Egan's Twitter feed showed a wedding gift from two of his teammates– a puck adorned with a "Storm" logo. From here, we were able to discover that Egan plays for the Storm of the ROHL in Exton. A roster is available online, but it doesn't include any pictures. However, this being hockey, there was one name that stood out as being different from the assorted Pats and Peters, Tanners and Rileys: Nosike Onyemaobin. Google returns virtually no results for that name. But it does return results for "Nosike hockey," which leads us to the LinkedIn page of Nosike Onyemaobim (the name was spelled wrong on the Storm's roster), who happens to look exactly like "Dwayne From Swedesboro."
Crossing Broad produced several photos and more or less put it to bed. Missanelli and his producer addressed and denied the rumors on air after the site came to them with their scoop. They claimed that the real live Dwayne had showed up to the station:
Mike Missanelli: "The only thing I can tell you is that Dwayne from Swedesboro showed up live here at the radio station."

Jason Myrtetus: "He was not allowed back here we were told, right?"

MM: "He was not, but he was Dwayne from Swedesboro. Dwayne was a real person when he came here. We met Dwayne."

JM: "Somebody was breathing."

MM: "Yeah somebody named Dwayne, from Swedesboro, was here so they might not wanna put that post up yet and check into that."

JM: "[Kyle] contacted me too, I'll talk to him. I'm not gonna talk to him during the show. I'll talk to him after."
Egan came clean shortly after and confirmed that he was in fact Dwayne, who he invented two years ago. He further said that he expected people to "play the race card" after they discovered his role in the invention of the racist caricature:
What will become of the Philly sports-radio scene? Only time will tell.