Each day this week, Storming The Floor will be previewing that night's important games. Enjoy.
Motivational Platitudes didn't exactly take off, so I'm skipping that today. But the random emails continue to show up in the STF in-box, so I'm going to take what the day brings. Today, it's this stuffy little tidbit delivered by the BBC, and passed on to me by reader Jon (not Joe) Buck:
The rough ratio of pi 3.14 gives us the date for Pi Day. March 14, or 3/14 in American dating style, makes sense for a celebration of this famous constant.

In ancient Greece, the great mathematician Archimedes worked tirelessly to discover the ratio, uncovering only a few digits of accuracy. When he tried to stop a Roman soldier from blundering over his work by shouting "do not touch my circles" he was unceremoniously murdered.
Hold on... here's where I relate that to basketball.
Obviously, there's a lot of geometry that goes into the basket interference rule, but what's interesting about this news item is that phrase "do not touch my circles". Strangely enough, that exact grouping of words has been used several times in the college basketball world. For example:
• Former USC star Harold Miner ("Baby Jordan" if you will), who was known for his intricate, OCD-level free-throw routine, was heard to ban teammates from the top of the key with those exact words.
• Shirtless Bruce Pearl said "do not touch my circles" to the UT students located to the right and left of him in the famous body-painting photo. Say what you will about him, the man is fastidious when it comes to nipple hygiene.
• Our final example may well be a mis-quote. It is believed that Kelvin Sampson used this phrase to warn fellow Big Ten coaches away from his Indiana recruits. Insiders say that the exact wording is more likely to have been "Do not touch my My Circle!"
G/O Media may get a commission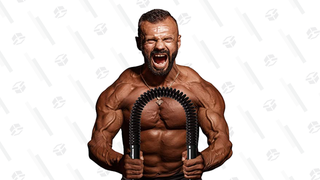 10% off
Zenooze Boa Power Twister
Small world, eh? From Archimedes to Kelvin Sampson. Only on Deadspin.
Some Early Scores
Wisconsin 51, Michigan 34
North Carolina 83, Florida State 70
Texas 66, Oklahoma State 59
Tennessee 89-South Carolina 87
Tonight's Tournament Action
With C-USA's lame-ass contenders for a bubble spot both getting booted in the early rounds of their conference tourney, we can now ignore what happens there unless some enterprising team upsets Memphis. Which, honestly, would be better for the conference as a whole, but I'm sure Coach Cal isn't feelin' it. Aside from the one final, the best games here are semifinals with NCAA seeding implications. Here's what's on tap for this evening.
Patriot League Final: #3 Colgate vs. #1 American. Oh, man, this is bad. What if Colgate gets in? We already have Cornell, and we know people can't tell the difference. Thanks to Bucknell's first round upset of the second-seeded Navy Midshipmen, Colgate has only faced a #6 and a #7 on their way to this game. American swept the season series, and are playing this one at home. If they succeed tonight, it will be the program's first NCAA tournament bid ever.
A-10 Semifinal: #5 St. Joseph's vs. #1 Xavier. We know St. Joe's can beat the X-men. They did it on their home floor a few days ago. Xavier won the earlier game in Cincinnati, so the neutral court makes this one very interesting. Will Pat Calathes crumble under the strain of being the last, best hope for the Calathes family? Tune in and see.
A-10 Semifinal: #6 Charlotte vs. #2 Temple. Notable primarily for the fact that Temple still needs this game to inch toward the top of the bubble. If the bizarre happens, and St. Joe's and Temple meet in the final, the entire city of Philadelphia will heave a sigh of relief. OK, not really.
Big East Semifinal: #5 West Virginia vs. #1 Georgetown. I'm no bracketographist, so I don't know where to seed West Virginia if they take down the Hoyas. I do know that it would be a single digit, and it would rhyme with "jive." They could move up to "spore" or "flea" if they win the tournament outright.
Big East Semifinal: #7 Pitt vs. #6 Marquette. This seed pairing in just about any other conference would lead to a half-empty building. But since the Big East tournament is played in Madison Square Garden, we'll wait until the Knicks are in town again before that happens. The distance between the #1 and the #7 seed in this conference is about as wide as Milla Jovovich's hips, so this is a quality game.
Pac-10 Semifinal: #4 USC vs. #1 UCLA. Both teams are basically playing at home, so I'll be sorely disappointed if the Staples Center doesn't have a March Madness atmosphere for this one. Love Mayo? Why, yes, yes I do.
Pac-10 Semifinal: #3 Washington State vs. #2 Stanford. Great game, as you can probably guess, but it will definitely stand well in the shade of the all-Cali side of the bracket. There's not a lot I can say about these teams that I haven't said already this year, except that I'd like to thank Taylor Rochestie for getting these late games over faster for us East coast dwellers. Rochestie doesn't dick around when the ref gives him the ball for a free-throw. That thing is on its way to the basket the minute he touches it. It's the little things that matter.
Big 12 Semifinal: #6 Texas A&M vs. #3 Kansas State. Both of these teams are probably feeling pretty safe right now, due to the Thursday Carnage. But it wouldn't hurt to get an insurance win. I will say this: I am a Kansas fan, but the 2008 NCAA tournament should include K-State and Michael Beasley. God knows what Bill Walker will do at this level! And I'm not talking about basketball prowess when I say that.
Big Ten Quarterfinals: #10 Illinois vs. #2 Purdue. Oh, man, this is pure ass-kissing. I just can't do it. (Ed. Note: Oh, go ahead: Try.)
Also Screwed: You! As your significant other says "It's a nice spring day, why don't we get out of the house for a change?"
This is the busiest time of the year for college hoops, so you can count on the Closer running throughout the weekend, as we keep up with developments on the hardwood. In addition, we will have reaction to the brackets following the Selection Show on Sunday. See you then.