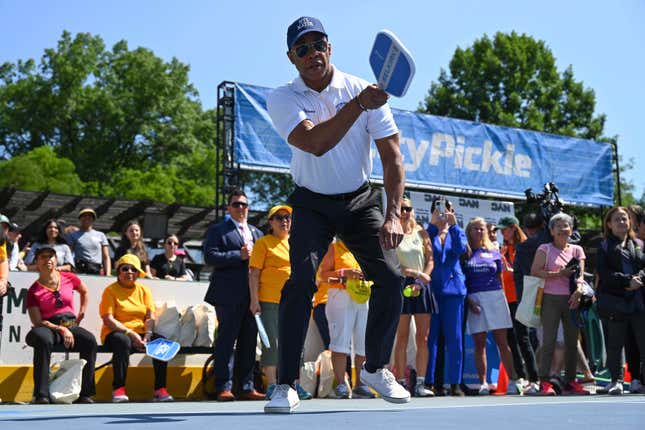 Here at Deadspin, we've penned so much inflammatory shit about pickleball that I feel bad degrading Americans for working out. If you want to spend your summer playing jumbo Ping-Pong, that's OK. Lather up a sweat, burn some calories, and spend $89.95 on a paddle that assuredly won't collect dust in six months like the trendy workout equipment that came before it.
All I'm asking is for impressionable masses to stop pressing pickleball upon people who like/play real sports — and to clarify whether they're called pickleball balls, or pickleballs. (It's redundant, but pickleballs sounds like a venereal disease, so I can understand the reticence.)
Two such people pushing the sport like overzealous car salesmen are ex-MLB execs Mike Dee and Bob Bowman. Dee, who held senior-level business roles with the San Diego Padres and Boston Red Sox, and Bowman, the former MLB Advanced Media president and chief executive, have leveraged their incredible industry acumen to bring a ballpark series to pickleball.
Yes, very much in the same vein as the NHL's Stadium Series, Pickleball4America will hold events at MLB stadia around the country. Boston's Fenway Field, San Francisco's Oracle Park, and Denver's Coors Field will be invaded by pros and amateurs alike to boost the visibility of an activity growing at a pace unmatched since the running boom of the 1970s. (No clue if that running tidbit is accurate, but Mike D says it is, and I never question a member of the Beastie Boys. Also, shoutout to Anchorman for its historically accurate jogging "Soft J" joke.)
This got me thinking: What other sports should be plopped on a baseball diamond in the name of growth and capitalism?