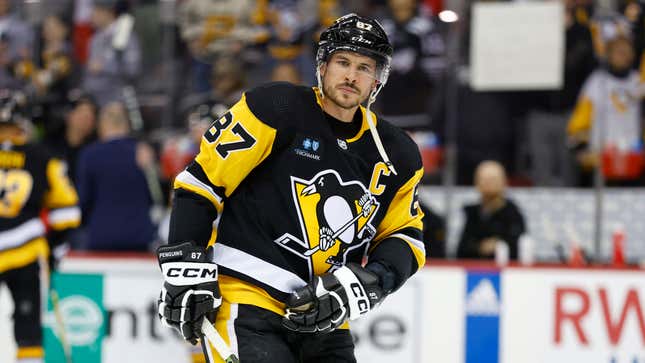 The Pittsburgh Penguins, in a lot of ways the industry standard over the past 15 years in the NHL, are looking pretty ragged at the moment. They look old, they look slow, and they look like they might be home for the playoffs for the first time since Sidney Crosby's rookie season. Which isn't a terribly good look for a team, and especially a front office, that went buckwild trying to get its aged core one more shot.
The Pens had their ass rubbed in the moonshine last night in New Jersey, to the tune of a 5-1 loss to the Devils that wasn't that close. Pittsburgh got domed in both attempts and expected goals and in pretty much any other measure you'd like to use. They were so far behind the Devils in every phase and every place on the ice you wondered if they'd been drugged.
It continued a maddening pattern for the Pens, who haven't been able to build up any kind of head of steam to grab a playoff spot by the throat that no other team seems to want. They keep trying to hand it to the Florida Panthers or the Islanders, but because the Panthers are coached by Paul Maurice and hence are attempting to drive a car with both thumbs in their ass, it hasn't been taken away from Pittsburgh either. The Penguins haven't been able to win more than two in a row in three weeks.
What's gone wrong for Pittsburgh?
What's been the problem? Where would you like to start? While the metrics since March 1st look pretty good (53.6 Corsi-rating, 56.3 expected-goals share), they can't make those numbers count on either end. Their goaltending the past five weeks has been woeful — Casey DeSmith has a .905 save percentage in that time, Tristan Jarry a .878. And, if you'll allow me to go to an old standard, they can't hit a bull in the ass with a banjo at the other end, shooting less than seven percent at even strength.
The Pens are still getting almost all the weight pulled by the top of the roster, your Crosbys, your Malkins, your Letangs. But whatever GM Ron Hextall has tried to do to fortify the bottom six or bottom pairings has ended up looking like the worst science fair project imaginable. Jeff Carter looks like mayonnaise left in the sun for a week. The Pens acquired Mikael Granlund at the deadline and he's got four points in 16 games, and here's how it's going visually:
Dmitry Kulikov showed up from Anaheim and immediately his organs fell into his ankles or something because he hasn't been seen since.
All of it has led the Pens to drop points like a drunk server at brunch. They gave away at least one to the Bruins last Saturday when they left David Pastrňák alone in their slot with a square mile of space. He only has 56 goals so far. They gave up seven goals to the Wings who have nothing to do these days and not a whole lot of people to do it with, and that's after they came back from 3-0 down. They gave up two goals in two minutes in the 3rd against the Stars before that while tied 1-1, which came a night after they beat the Avalanche in Colorado, only making it more infuriating. They lost to the Senators at home when they surrendered the winner with less than three minutes to go.
If they had just gotten the two home games against Ottawa and Boston to OT, they'd have a one-point lead for the first wild card spot, instead of staring at the ass of both the Islanders and Panthers. Hard to do that kind of thing though when you're consistently outscored in the 3rd period, as the Pens have been (94-82).
The schedule might save them. They have the Wild next, who are trying to win the Central. But after that, it's two teams at the head of the Suck Hard For Bedard Derby in Columbus and Chicago with one game against the inert Wings. But as we saw earlier, that's no guarantee. But the Islanders see three moribund teams in their four remaining games (Caps, Flyers, Habs), while the Panthers get the Sens and Caps too and then the Lightning and Canes who have nothing to play for. But the Pens are totally boned on the tiebreaker (regulation wins), so they have to gain two points on one of the Isles or Panthers. Which probably means running the table, and with this goaltending that's constantly looking the wrong way and a bottom six that has been turned into gravel, who's betting on that?
It may be that the bill has finally come due in The Confluence, which is generally what you get when you hire Hextall. Who looks at the Flyers and thinks, "Mmm yes, I'll have some of that?" You get what you deserve, sometimes.
Joel Embiid isn't the MVP?
You sure this man isn't the MVP? Maybe a little more due diligence needs to be completed?
Also, the only other guy to do all that while shooting 80 percent from the field is Wilt Chamberlain. Wilt did it against a handful of guys who were bussed in from the DMV. Embiid was putting his foot through a top-five defensive team in this NBA. I ain't sayin', I'm just sayin'...