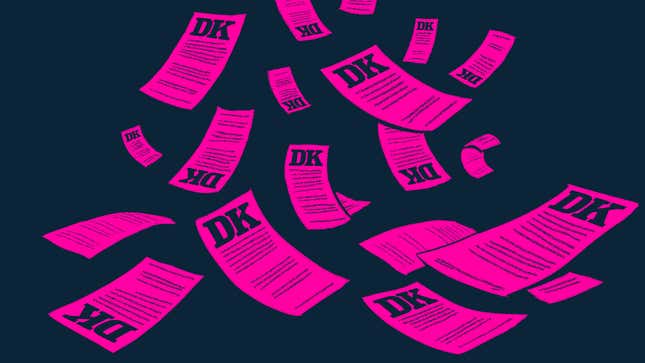 On the night of Sunday, Jan. 21, as the entirety of the sports world was consumed with football and the results of the NFL's conference championships, Dejan Kovacevic made an announcement. It was almost understated, given the importance of the changes to his site, DK Pittsburgh Sports. Kovacevic wrote that his Steelers beat writer would be promoted to editor-in-chief with "final say in editorial matters," and his wife, Dali, would take over managing the site's staff: "Basically, she'll run the place completely."
Kovacevic said he was excited about the restructuring, in part because "honestly I'm that much more excited that I don't have to do it. Mostly because I don't think I've been very good at it."
Kovacevic doesn't usually downplay changes to his site. In a Sept. 26, 2017 post he gushed about the hiring of Katie Brown, who had been a correspondent for NHL.com and who he wrote "lives and breathes the game, she's hyper-intelligent on a lot of levels, she's got the approachable personality to match, and she's very much a match for what we specifically need on our hockey coverage team."

By the end of November, Brown was gone. Kovacevic wrote that it was his decision, "but I can promise you it's supported—and I mean emphatically—by the entire staff." Brown confirmed on Nov. 28 that she had left the site.
Brown went into more detail in a Medium post published on Dec. 29, 2017. She said it had only been a month after Kovacevic's public praise that he became convinced she didn't know anything about hockey:
Not long after, there was a meeting with Dejan, his wife and another staff member. It was bizarre. It felt like an ambush. My work was trashed — work that had been previously praised. Dejan was also upset I talked to people on twitter and had friends on the road. He continued to tell me I didn't know hockey and that I'd misled him and his wife in my interview. He said I'd tricked everyone I know to this point that I knew the sport. It seemed like he wanted me to say I knew nothing and that I was a liar. To what end, I don't know. But I wasn't going to cop to something that wasn't true. Apparently there was a "cool kids club" on twitter that I just wanted to fit into. It was the most insulting and infuriating thing anyone has ever told me professionally. I was in tears at one point.
This culminated in Kovacevic threatening to put Brown on a per-piece basis before he eventually fired her through a text message. She had worked at the site for two months.
Brown's experience at DKPS was far from atypical. Conversations with more than a dozen former and current staffers and people who interacted with Kovacevic describe a boss who had grabbed a significant piece of the pie in the landscape of Pittsburgh sports media but was too impatient to let his staff develop; changed their responsibilities seemingly at whim; and generally acted like a tyrant. And in some interactions, according to former staffers, Kovacevic went far beyond merely being a bad boss.
---
Dejan Kovacevic is an innovator in sports media. He was born and worked in Pittsburgh, spending 20 years at the Post-Gazette from 1990 to 2011. He covered the Penguins and Pirates beats, and multiple people who spoke to Deadspin for this story talked about their admiration for his work at that time. He worked as a columnist for the Pittsburgh Tribune-Review from 2011–2014 before he founded DK on Pittsburgh Sports on July 23, 2014. (The "on" was later dropped.) Kovacevic's innovation was sports news, not connected to a newspaper or a larger corporation, that would be primarily funded by reader subscriptions. (Kovacevic also acquired sponsorships from local businesses.) He launched a year and half before The Athletic, which is attempting the subscription model on a national level. Greg Bedard, formerly of Sports Illustrated, openly credited Kovacevic for inspiring him to create Boston Sports Journal, a New England version of DK Pittsburgh Sports that also uses the same layout. A local subscription sports site isn't a novel idea, but Kovacevic was the first to pull it off successfully.

There are varying rates for subscriptions at DKPS, including a lifetime deal for $250. In return for Yinzers' money, he promises a level of access that goes beyond the rest of the media. As he told NEXTPittsburgh:
"We try to make it like we're taking you on the road with us," [Kovacevic] continues. "You're a Pirates fan? You're with [staffer] Josh [Yohe] right now in Milwaukee. Josh is taking you through the clubhouse, he's inserting video into his content, he's taking pictures of Miller Park."
Kovacevic also promotes access to the structure of DKPS. He interacts with commenters and uses their feedback to shape the scope of the site. Kovacevic posts updates of staffing changes (under the category "Site Stuff") and announces planned coverage of upcoming games. There's also a sponsored, constantly updating live map with illustrated avatars of his staffers (currently, 15 of them) to show where they're currently located.
Ex-staffers describe Kovacevic as intensely involved with the site, and deeply invested in its success. He works long hours and seems to subsist solely on Starbucks, his drink of choice the grande vanilla latte with two-percent milk and, according to one former staffer, 12 pumps of syrup. He has his phone set up so that it makes a cash register noise every time the site gets a new subscriber.
Because of Kovacevic's tendency toward transparency, this level of access had an unintended consequence. Readers knew when someone took a job at DKPS, but they could also usually figure out when someone left one. It became clear to anyone paying attention that the site's turnover was absurdly high. A Twitter account called @DK_turnover emerged in August and started to track these transactions.
Adam Flango, formerly of Cincinnati magazine, was hired in July 2017 to work on longform journalism for DKPS. He was gone by October. Hockey reporter Sara Civian's hire was announced in June 2017. She left by November. Football writer Neal Coolong lasted from July 2015 to October of that year. Nate Barnes came on to cover baseball in July 2015 and was fired a week later. Internet media writers can and do jump from job to job, but this wasn't that. There was a cycle: Kovacevic would hire a journalist and praise them endlessly in public and private, then grow irritated, fiddle with their job title or responsibilities, then either fire them or wait until they quit.
This was especially easy for Kovacevic to do because writers at DKPS were not full-time employees. Every former staffer who spoke to Deadspin said they were contractors working on 1099 tax forms, with no taxes withheld from their paychecks—they were functionally freelancers. They received no benefits or health insurance. Several former staffers say Kovacevic made vague promises to make some workers full-time employees, but did not follow through.

In an email, Kovacevic confirms that his staffers are contractors working on 1099s, and that he has previously made promises to change this. "That's my mistake, and it's one we've been working for a while to correct," he wrote, promising that his writers will be W-2 employees by "the end of February at the latest."
Although Kovacevic didn't provide full-time benefits to his writers, some of whom moved to Pittsburgh specifically for the job, he expected them to be available throughout the day. Brown told me that it felt like in the boss's eyes, "if you weren't working 16 hours a day, you weren't doing anything."
Former staffers say Kovacevic would cover flights, car rentals, and hotels, but not gas or food—he would frequently tell them to write off those expenses on their taxes.
In an emailed response, Kovacevic told me, "That's how that works for any independent contractor. We told everyone up front that we'd cover all flights, hotels, rental cars and, as soon as they're hired, a new Apple laptop. We also covered some parking and other incidentals. As it turns out, in working with 1099 independent contractors, we actually shouldn't have been covering any of that. But if I'd figured that [out] earlier, I probably would have figured out a whole lot more related to the business in general. That's squarely on me. I blew it. I had zero business leadership experience entering this position, and I should have worked way harder to learn it."
As Brown detailed in her post, Kovacevic would book the hotels himself and choose cheaper accommodations relatively far from the games his writers were covering. This wasn't considered to be as consequential an issue as a lack of health insurance, but former staffers who spoke to Deadspin said they were constantly irritated by the little things, like when Kovacevic would fly with his staffers to games and he'd upgrade his own seat, but not theirs.
---
Beth Mincin, a Pittsburgh-based sports blogger who has written for PensInitiative.com and SB Nation's Behind The Steel Curtain, says she met Kovacevic in 2014 at the Riverhounds' stadium while he was covering the team. She says that in June of 2014, Kovacevic texted her to let her know that he would soon be launching the site, and while he said he couldn't hire her as a staffer or pay her to write, he offered her exposure on DKPS as a reward for a much different assignment: have a threesome with him and his wife, or have sex with his wife while he watched.
When asked about this, Kovacevic responded by email. "Dear God, no," he wrote. "Wow. Really? That's how insane this has gotten. I've made a lot of enemies in local media and among local bloggers, and I'm sure I've earned a good portion of that. I've rarely been friendly with competitors, and I can be pretty abrasive. But it takes only a casual glance at Twitter to see how many of those people love to knock this company because they think it'll hurt me."
Mincin told me she no longer has the texts, but said she was in a car with her friend Chris Gerardi when she received them. Gerardi confirmed to Deadspin that he saw the texts. "She was shocked," he told me.
Mincin then sent the texts to a second person. When reached by Deadspin, that person requested anonymity but confirmed the contents of the texts.
"I never took him up on this," said Mincin, who told me that Kovacevic had previously tried to get her to take part in a threesome, "but I was very upset."
---
DKPS introduced Sara Civian in June 2017 on a contributing basis. She had written and edited at Penn State's student-run news site Onward State. Civian said she thought highly of Kovacevic and took a job at DKPS because she had hoped to learn from him, but was surprised at how quickly she was shifted from her original role, which was to write features about hockey. After the Pirates beat writer left the site in August of 2017, Civian was switched over to cover baseball. She says she made clear to Kovacevic that she wasn't a baseball expert, but he wanted her to fill the position anyway. One former staffer told me they asked Kovacevic, in a phone call, "'Does she know anything about baseball?'" The former staffer said Kovacevic, referencing the local NBC affiliate, replied, "'I don't know, but her tits will look good on Channel 11.'"

When I asked Kovacevic about this comment, he denied making it and claimed that it had actually been made by the former staffer who initially told me about it.
"As I recall," Kovacevic texted me, "he asked how she was doing on the job, meaning the hockey coverage. I responded that she was doing fine or something to that effect. It's at this point that I made some kind of remark about what she was wearing, that she hadn't worn something like that previously at a work function. Which was a weird observation, since it was nothing more than a sweater and boots, which are perfectly fine for a professional setting. And it was an indefensible observation on my part regardless of the forum or venue."
Kovacevic told me that the now-former staffer then "responded with that line about how her chest would look on WPXI. That absolutely wasn't me. In fact, I had no intention at that point of asking Sara to appear in our WPXI rotation, as we very rarely do that with newcomers, so even the concept wouldn't cross my mind."
Kovacevic put me in touch with a current DKPS staffer who, he said, would back up his story. That current staffer did indeed support Kovacevic's version of events, and attributed the Channel 11 comment to the former staffer. I then obtained text messages sent by the current staffer—but not given to me by that current staffer—that indicated they had spoken to me at least in part due to fear of retribution, and that they are afraid that getting involved in this could mean the end of their career.
---
Civian said Kovacevic made small mistakes like typos feel like the end of the world when he brought them up, and sometimes launched onto bizarre tangents.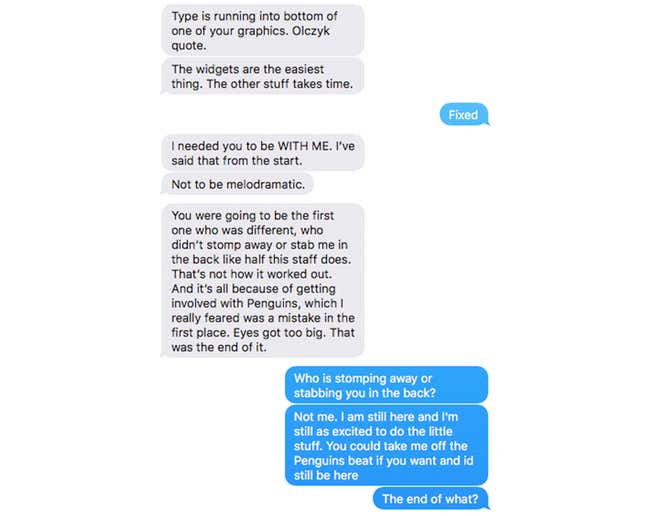 Civian told me she was afraid she was being too sensitive, since this was her first real job after college, but when she showed her father some of the texts she was receiving from Kovacevic, he told her it wasn't normal.

In October, Civian was shunted to "site manager," which involved putting together the DKPS newsletter, as well as other duties she was never clear on. "I asked him so many times what my responsibilities would be and that I needed to know in order to do my job," Civian told me. "He kept telling me he'd make a list and never did. So basically whenever anything looked off on the website, I'd get yelled at."
In November, five months after she was hired, Civian quit. On Jan. 10, she wrote a Medium post about her experiences at DKPS and referenced messages that Kovacevic would send to other people about her appearance, with the texts often coming right after their drives to Penguins practices:
It was actually shocking to see this stuff, and not only because I am now aware that there are messages detailing what I was wearing months ago down to my shoes (you like those boots, Dejan?), not because "at least my tits will look good on channel 11," and not because of the stuff that I can't even bring myself to type but apparently my 57-year-old boss could after I spent 20 minutes alone in a car with him. And I made that car ride with him to Penguins practice in Cranberry back to Pittsburgh so many times. I keep going over the rides in my head. Now that I know what he was thinking every car ride and that he felt he could type it out and press send with zero repercussions is just gross. The fact that I've been made aware of just a few of the messages and also made aware that there are more out there is grosser.
In a text message, Kovacevic told me that "Sara was treated with nothing but respect by me in her brief time with the company. It didn't work out and she left. But I'm proud that, at one point, a quarter of our staff was comprised of women and that we've still got three who have been with us for the majority of our three-year existence. I hired all of them because I felt at the time they were the best qualified for the job."
In a phone interview, Civian told me she's living in Boston and freelancing. "I would rather do this and struggle than ever do a day of that," she said.
---
Kovacevic's preferred form of communication was through texts, even with staffers who worked in the office, located at the Riverhounds soccer team's stadium in Station Square. The staff discussed everything through group chats on iMessage, categorized by sections. A secret group chat, populated by a mix of former and current staffers was created to gripe about Kovacevic, though according to sources who were in the chat, it was disbanded in November after Kovacevic found out about it and threatened the jobs of any current staffer who was in it.

Alan Saunders was a writer at DKPS until April of 2016. On June 15, 2017, Saunders said he realized that someone had been opening and reading his direct messages to his personal Twitter account.
Saunders said that while he worked at DKPS, he had linked his Twitter account through Tweetdeck or a similar client, and believes that after he left, it was never unlinked. Saunders said he determined that his messages had been read since at least October of 2016.
According to former staffers, Saunders discovered the DM breach because of a conversation he had with a reporter for the Pittsburgh Tribune-Review. That reporter, who did not speak to me on the record, had a potential job interview planned with Kovacevic and DMed Saunders to ask what his boss was like. At one point in the DM conversation, the reporter referred to Kovacevic's behavior as "assholish." When the two actually met, Kovacevic reamed him out—inadvertently indicating he had read Saunders's DMs—and said he wouldn't work with the reporter.

In an email, Kovacevic told me, "I've never read anyone's direct messages, and I'm sure I wouldn't even know how."
Kovacevic's wrath extended even to his own hires that were on their way out. As Brown explained in her Medium post, her final days at DKPS were the week of Thanksgiving 2017, triggered by an episode where Kovacevic believed she hadn't been fast enough writing a story on an Evgeni Malkin injury update. The Friday night after Thanksgiving, he texted her to skip covering the Penguins game the next day. Brown went anyway, because she wanted to get quotes for a feature she was writing on Chris Kunitz. Kovacevic confronted her in the media meal room. From Brown's post:
Dejan finally came over to speak with me. He said I didn't care about news and thus couldn't be trusted with daily coverage, which didn't make any sense considering I'd handled almost every news story since I was hired. He promised I'd make just as much getting paid per piece as I would on salary — basically, it would be my fault if I didn't work hard enough. I knew this was happening because he wanted to move the new guy in and push me off everything. He was trying to get me to quit. I told him there was nothing left to discuss unless it was about continuing with my current duties.
After the heated conversation, Brown said, Kovacevic tried to get the Penguins' media relations department to eject Brown from the arena, on the basis that she was poorly representing his company.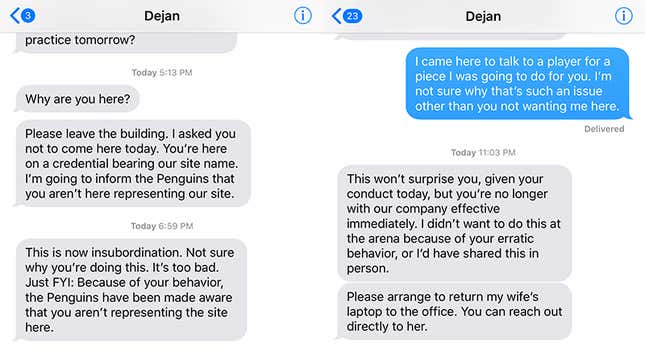 According to other reporters at the game, a perplexed Penguins flack found no reason to make Brown leave the press box, as she wasn't doing anything wrong.

Brown said she felt "relieved" when she was finally fired, and is currently freelancing. "It begins and ends with [Kovacevic's] ego," she said. "If he doesn't get the praise he wants, everyone feels his wrath."
Brown's stories rang true to other former staffers.
"Some of what [was] described [by Brown] was very familiar, like late-night text messages over minutiae and put-downs about work quality," said one former staffer who requested their name not be used. "That stuff, to me, was always pretty minor. That's just the way some people are wired. He's not pleasant to work for. I don't think anyone would say otherwise."
The staffer said of Brown, "on the whole, our experiences were pretty similar."
Another former staffer said that while they personally did not receive similar messages from Kovacevic, they recounted opening their email inbox on their first day to find emails from Kovacevic to the previous person who had used that inbox, and said the emails "sounded a lot like what Katie posted."
"I read Katie Brown's story. It's strange to read words written by another person that you said exactly to yourself years ago," said a third former staffer. "Her experience is similar to mine and many others among the score of people who are now former employees of Dejan's. His penchant for a 180-degree shift in thought from one minute to the next is the root of his employees' incessant stress."
---
Dejan Kovacevic found himself in a dying industry. His last newspaper job before striking out on his own was at the Pittsburgh Tribune-Review, which has since gone through waves of layoffs and is now an online-only publication. At DKPS he was solely financially responsible for the success or failure of the venture, so he tried to make the most of every cent he used. (In one series of text messages I saw, Kovacevic berated a writer for publishing a piece that he believed didn't justify its expenses, which he listed to the dollar. "Value in has to equal value out," he wrote.)

He found journalists who were stuck in that dying industry and looking for something fresh and appealing and sustainable. He gave them unpredictability and insecurity. He didn't give them health insurance. He made derogatory comments about them, to their faces and behind their backs.
My reporting on this story began soon after Katie Brown published her Medium post, and as I've spoken over the past weeks with former staffers and people who knew Kovacevic, they've told me his behavior has reflected the knowledge that this story was coming. In addition to announcing on Sunday that he's relinquishing management duties at the site, Kovacevic has since set to private his personal Twitter account and, for most of Tuesday, the official Twitter account for DK Pittsburgh Sports.
In a group chat this week, Kovacevic claimed to his staffers that Deadspin only pursued this story because Brown's brother-in-law works here.

(As far as we know, no one at Deadspin is related to Katie Brown, and Brown confirmed to me that she does not even have a brother-in-law.)
Kovacevic publicly made the same claim that a disgruntled former staffer is related to someone at Deadspin in a post he wrote on DKPS late Wednesday night, in which he published the list of questions he had requested I email him, along with his answers. Kovacevic's rebuttal included the claim that he had "never hurt anyone, never mistreated anyone—not at this company, not anywhere—and, above all, never came close to disrespecting women."
One current DKPS staffer who requested anonymity said they had no clue Kovacevic's post about Deadspin was going to be published. "I felt blindsided by that," the staffer told me, "and feel that it's dumb, but it's his decision."
Even though Kovacevic announced Sunday night that he would be giving up the responsibilities of a boss and include the staff more in making site decisions, the current staffer said the workflow hasn't yet changed, and that staff meetings this week on how to respond to Deadspin's investigation weren't encouraging. "It's the same thing," the staffer said. "Last night was the actions of someone who's in command."
---
On Dec. 30, one day after Brown took her complaints public, Kovacevic wrote his own post, headlined "On being a really bad boss sometimes." He admitted to being "emotional" and "rash," as well as "tough in maybe the more annoying way" on his staffers. He also addressed the number of people who have left, though claimed he had "kept great relationships with a lot of the people who aren't with us anymore."

"We've had some turnover here, it's no secret," Kovacevic wrote. "I could repeat that this is common for startups, which it really is. And I could repeat that a good many of the people who left did so for reasons that had nothing to do with us. But the fact remains, a good portion of that turnover could have been avoided. More thorough interviews could have been conducted. More could have been invested in training and teaching. More patience could have been applied. More support could have been provided. All of that is 100 percent on me."