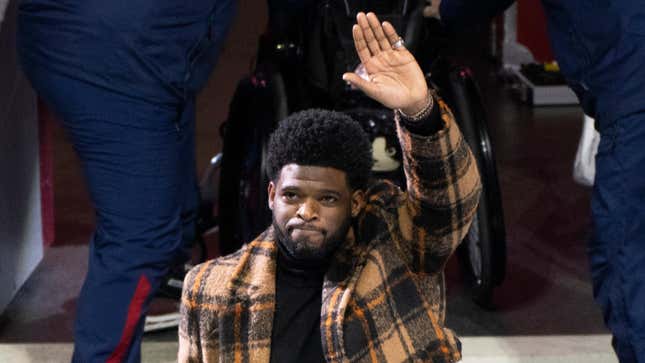 NHL headlines this season have become dominated by players refusing to wear Pride jerseys and the debate over LGBTQ+ inclusion in the sport. Although Pride is the harbinger, hockey's toxic culture sits at the center as the sport grapples to address not only homophobia and transphobia, but issues of ableism and misogyny, and prominently, racism. While pundits debate Pride, experts hoping to promote diversity, equity, inclusion, and justice in the sport, are urging for a more intersectional approach.
Can the Florida Panthers make a comeback? | Agree to Disagree
The intersectional issues in the sport were brought to light this week following PK Subban's comments about Pride celebrations. A supporter of underprivileged youth and vocal advocate combating anti-Black racism in hockey, Subban faced backlash after speaking against an initiative supporting another equity-seeking group, Pride.
Subban's comments focused on what he felt was a "push" for athletes to become "activists" by wearing pregame Pride jerseys, despite Subban himself designing Black History Month jerseys for the New Jersey Devils to wear in 2022.
"We cannot push everyone to be an activist, we need to be very careful," Subban said to Reuters. "I feel people pick and choose what they want to talk about and I don't like it when we put the onus on athletes to be activists."
"You can support the LGBTQ community without having to wear a hat, a T-shirt or a jersey."
As Reuters stated, "Subban rejected any suggestion that minorities and marginalized children might feel unwelcome in these buildings after watching their favorite NHL team or player choose not to support some Pride Night initiatives."
Subban, who played 834 NHL games, winning the Norris Trophy as the league's top defender in 2013, then turned his criticism to the media, who he said need "to be held accountable" for pushing certain narratives and should be more focused on the positive work that is being done.
"There's many players in the league that have started programs — why aren't the media talking about that?" Subban questioned.
According to Ornella Nzindukiyimana, an associate professor at St. Francis Xavier University whose research focuses on Black Canadians' sports histories, wearing a Pride jersey does not constitute activism, calling Subban's suggestion on the matter "very disingenuous."
Nzindukiyimana also believes Subban's comments dismiss intersectional issues of oppression, and that if the work being done through other initiatives were enough, Pride and Black History events in hockey would not be necessary.
"If the work that was being done behind the scenes was so wonderful and enough, as Subban suggests, then there would be no need for such initiatives as Pride or Black History Month," Nzindukiyimana said.
"The existence of these awareness campaigns are yearly reminders that there is a lot of work to be done both symbolically and practically," she continued. "The league's public-facing actions matter as much as the work being done to educate athletes, and it is not an either/or thing. We are talking about deep-running issues that cannot be solved with one act or one speech. All of these issues stem from a similar place, and they cannot be addressed separately."
Subban's comments were not well received by members of the LGBTQ+ community, nor by those working to change hockey's toxic culture. Issues of sexism, homophobia, transphobia, and racism are interwoven in the sport, a topic author Jashvina Shah, who co-wrote Game Misconduct: Hockey's Toxic Culture and How to Fix It alongside Evan Moore, knows well.
"Nothing in life is solitary and unless we are supporting all causes and uplifting all marginalized people, we are not uplifting any," said Shah.
"There are marginalized people who belong to more than one community and by excluding people in some communities, we are also excluding those who exist in our own communities as well. It's also just the right thing to do to support marginalized people from all backgrounds."
Shah's sentiments were echoed by many, including Lexi Brown. Brown, who holds a Ph. D. in philosophy in education and is married to Black former NHL player JT Brown, responded to Subban's comments on social media.
"Wearing a jersey is the bare minimum to fostering an inclusive environment," she wrote. "These white millionaires don't need you defending them, the Trans kids in Iowa, the Queer kids in Florida, and all the BIPOC LGBTQ+ kids are the ones who need us to show up for them right now…I hope these quotes were taken out of context because how can you even try to speak for the LGBTQ+ community like this."
Subban, who does not publicly identify as a member of the LGBTQ+ community, has been a positive vocal advocate for anti-racism. His 2022 jersey, which featured the slogan, "A Movement, Not A Moment," was a response to anti-Black racism in hockey, including an incident involving his brother Jordan in January 2022. As it relates to racism, Subban himself stated that others outside the Black community will not understand what Black athletes are dealing with.
"If you're not Black, you're not going to understand… for us, this is life. This is life for us. And that's what's sad. This is life for people that look like me who have gone through the game of hockey. And that's part of the history, whether we like it or not, and we're trying to change that. I'm an advocate to change that."
Limiting his support for equity to a single group, whether it's as an activist or ally, however, risks excluding others. As Nzindukiyimana said, arguing against wearing a Pride jersey, particularly for the reasons listed by current NHL players, is not only harmful, it's ignorant.
"If they are not part of the solution, we can only assume that they are a part of the problem because the arguments they present are reckless and out of the ignoramus playbook," Nzindukiyimana said. "Wearing the jersey does not make one non-homophobic…but not wearing it sure doesn't say you're anti-homophobia, especially not with those arguments."
Evan Moore, co-author of Game Misconduct: Hockey's Toxic Culture and How to Fix It says that many affinity groups operate for a shared interest or common goal, and the individuals who make up those groups, can often overlook the oppression experienced by others.
"Having blindspots regarding intersectionality is something all affinity groups reckon with," said Moore, who pointed to organizations like Black Girl Hockey Club and Hockey Diversity Alliance as groups successfully achieving their own goals while having "a firm grasp on allyship" for others.
When those instances of failed allyship are brought to light, as is happening with PK Subban, Moore says allies should listen to other equity-seeking groups.
"Marginalized groups propping themselves up over each other while ignoring the gripes of others is a terrible idea," said Moore. "When someone pulls us aside to point [blindspots] out, we need to listen."
Hockey continues to deal with issues of racism. Simultaneously, hockey continues to deal with issues of homophobia and transphobia. Seats at the table for all equity-seeking groups are needed, and while solutions exist, the hockey world perpetually speaks about diversity, equity, and inclusion, without listening.