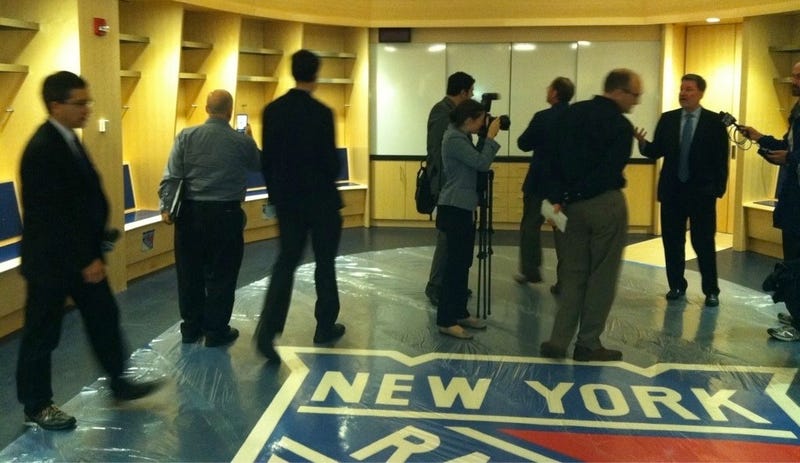 Madison Square Garden is the oldest arena in the NHL, and was best described as a serviceable dump. The kind of place that trafficked more in history than inherent charm. But that was before the beginning of a three-year renovation that will add the kinds of modern amenities that nobody was clamoring for, like luxury suites and sushi bars. The first phase was completed this summer, which forced the Rangers to spend their first three weeks of the season in far-flung exotic places like Sweden and Western Canada.
The home opener is tomorrow, and today they held their first practice in the new MSG. So naturally reporters are focused on the most striking feature of the newly redesigned locker room: a gigantic Rangers logo in the center of the floor. Naturally, tradition dictates that you don't tread on the logo. It's about respect. Hey baldy in the photo up top, watch your heel! Damnit Baldy, you're doing it again!
Rest assured that your intrepid scribes won't face this sort of dilemma during postgame interviews. Rangers PR says they'll cover up the logo before they open the dressing room up to the media, to prevent Ryan Callahan from having to beat up some yutz from the Staten Island Advance.