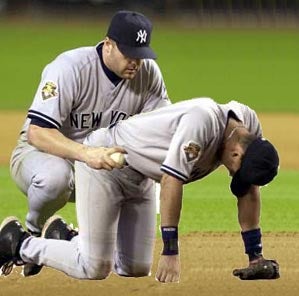 One would have thought, after that "ow, my hamstring, I have to LEAVE!" display by Roger Clemens in the ALDS last month, the "Rocket," as they call him, would finally realize it's better to leave well enough alone. But no: Even though he's happy to take that "services contract" from the Astros — one they surely regret already, by the way — his agent is still flogging the idea that he'll play again.
While Clemens told the Houston Astros he will begin his 10-year "post retirement'' contract to work with minor-league players, the 45-year-old hasn't officially retired, Randy Hendricks said.

"Playing next year is still an option, even if a reduced one from prior years,'' Hendricks said in an e-mail yesterday.
We're not sure how much more abbreviated Clemens' contract could become at this point; we suspect that next year, he will just show up in the top of the first, throw one pitch and then walk off the field with his cap held high in the air. And that pitch will, of course, be directly aimed at the batter's head.
We do encourage him to come back, though; it might be fun to see him pitching in a post-Mitchell report world.
Clemens May Pitch Next Year On A Shorter Schedule, Agent Says [Bloomberg]