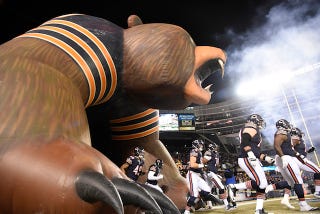 A fight between two Bears fans and four Cowboys fans last night outside Soldier Field ended with the Bears fans sent to the hospital with stab wounds. [Update: see below.]
From the Chicago Tribune:
The fight started around 10:45 p.m. Thursday in the 400 block of East 18th Street when four men began yelling "the Bears suck" at two men from Oak Lawn, according to a police report.

"The victims yelled back 'Cowboys suck,' " and someone from the group of Cowboys fans threw beer into the eyes of one of the Bears fans, the report said. The Cowboys fans then jumped on the Bears fans and cut them, the report said.
One of the victims was stabbed nine times in the back, while the other suffered a single puncture wound. Both were taken to the hospital with injuries that were described as non-life-threatening. The attackers fled in a car, and no arrests were made.
Having watched last night's game, I thought it was pretty clear that the Bears suck and are certainly not worth attempting murder over.

Update (5:11 p.m.): The Tribune talked to one of the victims, and he disputes the police report. He says he and his friend didn't say, "Cowboys suck," but something about how the Packers were good.
The man said he and his friend were in the parking lot in the 400 block of East 18th Street around 10:45 p.m., rehashing the Bears loss, when they started talking about the Green Bay Packers. "I was saying the Packers are awesome this year, why can't I be born a Packers fan?"

The comment caught the attention of another man in the lot who stormed up. "I went to go shake hands but as soon as I did, his buddy came up and threw beer at my head,'' the man said. "Beer got in my eyes and blinded me

"Then everything went downhill," the man said. "I was trying to defend myself and run away. I was running away, I remember."
The victim strongly believes that the attackers were Bears fans.
Photo: Getty