The Penguins took a weird Game 1 of the Stanley Cup Final last night, winning 5-3 despite going 37 consecutive minutes without recording a shot on goal. Also weird? A Predators fan threw a catfish on the ice, a strange tradition in Nashville that dates to 2003 but has gotten a ton of attention this season as the team made its improbable run to the Final.
Unfortunately, last night's game was in Pittsburgh. And Jacob Waddell, who threw the catfish onto the ice, has been arrested for his stunt.
He was charged with disorderly conduct, possessing instruments of a crime and, most excellently, disrupting a meeting. Disrupting a meeting! I had to look at the Pennsylvania Code to learn that is an actual crime one can be charged with:
§ 5508. Disrupting meetings and processions. A person commits a misdemeanor of the third degree if, with intent to prevent or disrupt a lawful meeting, procession or gathering, he disturbs or interrupts it.
G/O Media may get a commission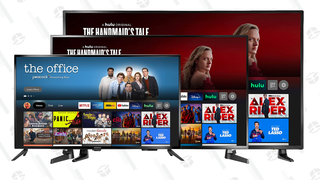 Up to 44% off
Prime Early Access - Insignia Fire TVs
Yes: This seems like a catchall crime that can be used to arrest protesters who are bothering powerful people. But I don't think it applies here! Waddell's intent was to throw a catfish, not to disrupt the game. Dead-animal throwing has a storied history in hockey—think about that for a second—and rarely, if ever, has it forced the cancelation of the game. The only issue with the catfish toss is that it happened in Pittsburgh, not Nashville.
Possessing instruments of a crime is another common over-charge: The state accused you of a crime, and while committing that alleged crime you used an object. Bingo! Possessing instruments of a crime. It is possible this is the first time in Pennsylvania history the instrument has been a fish, however.
Per CBS Pittsburgh, Waddell says he vacuum-sealed the catfish and hid it inside his compression shorts. After entering the arena, he went to the bathroom and removed the fish from his shorts, wrapping it in a free t-shirt and towel given away at the door. Yuck. Isn't that punishment enough?