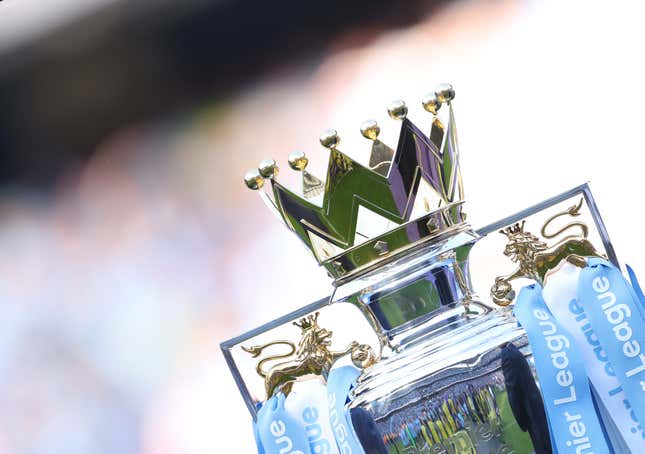 Most of the attention of the soccer world is fixed on the Women's World Cup. And whatever's left over is on Lionel Messi's daily brace. But the world of soccer never stops, and in that fashion, the Premier League returns this weekend (so does La Liga but we can hold off on yet another discussion of the basketcase Barcelona is for another day). Didn't notice it was there, did you? Well, we here don't want to leave you completely lost and bewildered (that's our bag). So let's run through all 20 Premier League teams and whether or not you want to wake up/ignore your children to watch them.
Erling Haaland set to break records | Premier League
Arsenal
Last season's surprise title challengers, at least for three-quarters of the season, still look like the most likely to make Manchester City…breathe hard? At least for a little while? Arsenal's biggest weakness last season was not having a plan when William Saliba got hurt, which has been mostly addressed by the signing of Justin Timber. Yeah, he's short, but he's incredibly gifted with the ball and can bounce between the center of defense and fullback. Kai Havertz toddled across London to add more creativity and up their press. They'll have the added burden of the Champions League, and it's still not clear that Gabriel Jesus can lead a team from the front for a full season (somehow Arsenal think Falorin Balogun is worth $50 million but also isn't good enough to play for them?). The problem for Arsenal is they wildly outshot their metrics last season (88 goals from 71 xG) and Havertz isn't exactly lethal when it comes to finishing. Still look like the second best team in the league, still look a step away from an interested City.
Ignore your kids? Oh yeah. Wherever Arsenal finish they'll be wildly entertaining, and the front five of Saka-Odegaard-Havertz-Martinell-Jesus (when healthy) will cause ladder-match-like pops.
Aston Villa
Unai Emery revitalized Villa when arriving in the second half of last season, going unbeaten from the middle of February to April. They only look stronger now after signing Pau Torres, Moussa Diaby, and Youri Tielemans. Torres especially is a boost to the defense and will help Villa play like a big boy against teams that are just trying to hold them out, which they'll see more of this season, as he can break down a high press. They're still very Ollie Watkins-dependent up top, and should he go on a cold streak or get hurt they'll have a lot of questions, but this looks like one of England's sleeping giants waking up.
Ignore your kids? Yeah, better, if only because keeper Emiliano Martinez will have an actual fireworks mishap in his penalty area during a match or take his wang out and wave it at an opposing striker before a penalty.
Bournemouth
It's been a pretty ruthless summer on the south coast. Gary O'Neill took over a team that lost three of its first four games last season by a combined 16-0 and guided them to safety with room to spare and got fired as manager anyway. In came Andoni Iraola as manager after guiding Rayo Vallecano from the Segunda to the middle of La Liga. The Cherries clearly want to move from a simple, defend-and-direct team to one that plays expansively, but that's the kind of transition that sees a team get their head dribbled like a basketball unless it's run expertly like Brighton. Bournemouth are not Brighton.
Ignore your kids? Nah, good time to get in your parenting time before better stuff comes on TV.
Brentford
Manager Thomas Frank is one of the most ingenious in the business, and he'll have to to navigate around Ivan Toney's gambling suspension which runs to the middle of January. Toney scored 20 goals last season, and no other Bee managed more than seven. The man who did, Yoane Wissa, looks set to be the main replacement for Toney. Brentford have only really added in central defense with Nathan Collins, but that doesn't mean they won't be something of a stone bitch to play against. They finished ninth last season, and that kind of feels like their ceiling. Things could get icky if they can't find the goals without Toney, but they're far too well-run and coached to get anywhere near relegation trouble even if they are piling up the 0-0s and 1-1s.
Ignore your kids? Eh, only when they're playing one of the top clubs because there's always an upset alert with Brentford.
Brighton
Normally, a team that loses Alexis Mac Allister and likely Moises Caicedo, as well as keeper Roberto Sanchez, is in for choppy waters. But this is Brighton, who operate on another level from most teams. Owner Tony Bloom is so secretive about his scouting and evaluation system that even his own employees aren't allowed to see it, and they've probably pulled a coup with the free-agent signing of Mahmoud Dahoud from Dortmund. Dahoud fell out of Dortmund's favor last year, a lot having to do with missing the first third of the season with a should injury. But he's only a season removed from being a major cog in their midfield and a pretty spicy passer and chance creator from deeper in midfield. If this is the season where Evan Ferguson, just 18, turns into an all-around striker to augment the still-lively attack and the Seagulls don't have to keep using Danny Welbeck with a straight face, there's no reason they can't keep crashing the party.
Ignore your kids? Yes, and Roberto De Zerbi's side is sure to be a joy.
Burnley
The only newcomer from the Championship that doesn't look like cannon fodder. You'll hear a lot about Vincent Kompany transforming the club from Sean Dyche's moshpit-ball to far more aesthetically pleasing fare, and it's true. Burnley somehow played elegant football through the mud and slop of England's second division last season and ran away with the title. Can they do the same against the more advanced and far better-informed teams in the Premier League? Goals might be an issue, as main striker from last season Nathan Tella was only in on loan and has gone back to Southampton. The purchase of Zeki Amdouni is meant to address that, but it's not like he was prolific in the Swiss league. Burnley won't average nearly 70 percent possession as they did last year in the division below. Will the defense hold up? Certainly, Kompany has this team as tactically fluid and forward-thinking, but sometimes with the best intentions…
Ignore your kids? Probably. Burnley will either be a big surprise package or dealing with a lot of 3-2 games. Think Leeds of a couple years ago, though a couple degrees turned down.
Chelsea
Can the hiring of a manager put out a tire fire three city blocks wide? Chelsea are trying to find out. Mauricio Pochettino is certainly a great manager, but most of the problems from last year are still here. There is no midfield to speak of outside of Enzo Fernandez, as Moises Caicedo has yet to be bought. There is no striker now that Christoper Nkunku was eaten by the Soldier Field turf beast. Out wide is still a past it Raheem Sterling, a how-the-hell-am-I-still-here Hakim Ziyech, and a boy-I-cost-a-lot Mykhailo Mudryk. Maybe they'll let Leo Colwill anchor the defense after starring at Brighton last season? No one knows. They can't possibly be as bad as last season. But what my book proposes is…
Ignore the kids? In the same vein as watching the demolition derby, likely (I've just guaranteed a 4-1 win over Liverpool Sunday).
Crystal Palace
This is already long and the extent of Palace's creativity was to hire Roy Hodgson again. Wilfried Zaha is gone, Eze and Olise are still here, and they won't score much. Move on.
Ignore the kids? Sorry, nope. You're watching cartoons. Speaking of which…
Everton
Fulham
Feels like they maxed out. Two-thirds of last year's attack wants to take Saudi blood money, they signed Raul Jimenez to replace Mitrovic except no one's sure that Jimenez isn't clinically dead. Other than our American hero Antonee Robinson, no one on this team is particularly young, and their president spends all his time booking wrestling matches. Probably won't get relegated, but might flirt with it.
Ignore the kids? Sorry, you have to go set up a tent in the yard or whatever it is parents do on Saturday mornings.
Liverpool
Can you field a team that doesn't have a defensive midfielder? Well, Jurgen Klopp did it once before. They finished fourth in an avalanche of goals in both nets in 2016-2017. After Fabinho screwed off to Saudi Arabia, that's where Liverpool find themselves again as they haggle with Southampton over $10 in a $60-$65 million transfer for Romeo Lavia, and it isn't clear that he isn't a major project at the moment. The Reds will try to outscore their problems with a ridiculously loaded forward line that will see Diogo Jota or Darwin Nunez or Cody Gakpo sit on a rotating basis. Oh, and besides having no shield in the middle no one's quite sure that Virgil van Dijk isn't tumbling down the aging hill.
Ignore the kids? Oh, god, yes. There's a lot of 4-3s in waiting for this outfit. Every Pool supporter you know, including me, is going to be buying up every available edible in the country.
Luton Town
Are you ready to hear about how small their stadium is? Cuz you're gonna! Kenilworth Road only holds 10K, everyone enters through a liquor store or something, and that will be harped on by every broadcast you see. And they'll likely get punted straight back to hell, as they were built on defense and goalkeeping (Ethan Horvath, who saved 10 goals over expected last season) and the goalkeeping left.
Ignore the kids? Little league and hockey rinks for you, pal.
Manchester City
Manchester United
As always, they're talking loud. They bought Rasmus Hojlund to fix their #9 problem, except he was good for half of a Serie A season. Casemiro will still be expected to hold everything together at 31 at the base of midfield. Bruno Fernandes will score against Luton and sulk against anyone who is good. Their season hinges on Marcus Rashford having another months-long heater, or not, and whether new keeper Andre Onana can bail out the defense better than David De Gea did for the last few years, while also providing more with his feet with the ball (i.e. anything at all). Sadly, the answer to both is probably yes.
Ignore the kids? Ignoring your kids to watch United is a crime in most states.
Newcastle
Blood And Oil FC are back and still look pretty tasty. They've added Sandro Tonali, Harvey Barnes, and Tino Livramento while only losing the barely bottled chaos of Allan Saint-Maximin and backup battering ram Chris Wood. They'll probably still be miserly on defensive, with Tonali allowing Guimares to mostly concentrate on screening the defense as well as aiding that himself. If Alexander Isak converts more chances/stays healthy up top, they might even be better. Their one bugaboo was not scoring as much as they should…but don't worry they'll just sign Mbappe in January or something stupid.
Ignore the kids? Check your morals, but yeah.
Nottingham Forest
I'm getting dizzy, so let's hit the gas. Forest are basically the same team that barely scraped survival last season, appear to be the same mishmash of players that don't really congeal and it'll be another question of if they can dry hump their way to safety.
Ignore the kids? Not unless you hate them. Which you do.
Sheffield United
They're a promoted team who have seen three of their major contributors from last season leave before this one. CHUM.
Ignore the kids? Sorry.
Tottenham
Is Harry Kane still here? Yes. Will he be? Unclear. Also he's getting old. So is Heung-Min Son. If Kane leaves now there isn't time to find a replacement. If he doesn't, this is still a team that needs a multi-season rebuild. But chaos is what they do best.
Ignore the kids? Ah sure, they could be anything.
West Ham
They don't have Declan Rice anymore, who felt like he held a lot of this together by being an entire midfield unto himself. Michail Antonio is getting awfully old, and his only backup is only slightly less old Danny Ings. Jarrod Bowen missed his window to leave. But they'll sing a lot of songs about winning the Europa Conference. They'll have to, won't be much going on on the field. The crappiness of Luton, Sheffield United, and Wolves (and Everton!) probably keeps them clear of relegation, but won't be a ton of fun had.
Ignore the kids? Make 'em breakfast.
Wolves
Not a great sign when your manager quits six days before the season starts because he thinks your club is run by a bunch of donkeys. Gary O'Neill kept Bournemouth up last year. There's probably more talent here. Would be kinda funny if he kept Wolves up over Bournemouth, but that's the height of their aspirations.
Ignore the kids? Not until April's relegation fight.