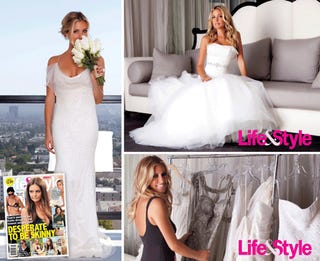 As opposed to the future ex-Mrs. Cutler, who is whichever C-lister the Bears QB will glom on to next in his never-ending quest to be a star (just playing football's not cutting it).
Life & Style released some photos of Kristin Cavallari posing in her wedding dress. If it's an attempt at pathos, it's failing. Because while for most women a wedding day is the happiest day of their lives, someone like Kristin Cavallari is probably just thrilled she gets the cover of Life & Style anyway. That's what this entire engagement was about, right?
Kristin Cavallari tries on wedding dresses just days before split [Life & Style]
•••••
Fight the good fight. You've got Hickey in your corner.