My parents came of age in the '60s and '70s, and so they remember when blacks weren't allowed to vote, and all the speeches and marches and blood that went into that fight, and all that came after. They did okay for themselves, got married, and moved out to the suburbs to do the whole American Dream thing. But still, they were skeptical.
I grew up in the only white town in a majority-black county. I spent my whole life playing soccer, and I was a teenager before I wasn't the only black kid on an all-white team. My best friend, whom I consider my blood and my soulmate, is white. We met in kindergarten, and we grew up bussing in to black schools to take classes in rooms full of white kids. My parents tried to convince me my whole childhood about how America was ugly, about how there was a chance that something very bad could happen to me for no other reason than I was black, and how that reason would be sufficient, because as long as black people have died and lived and died again on these shores, that reason has always been sufficient.
I didn't really believe them. Though they assured me that the world was segregated, everywhere, I never believed them. I considered myself part of a utopian, postracial future, and the only time I sensed segregation was when we went to church. It was a huge church, and every Sunday, we'd wait an eternity in line as hundreds of cars shipped thousands of well-dressed, good-smelling black people to sing and dance and talk about the grace of Jesus Christ. We often had to sit in one of the overflow rooms, watching the reverend preach on a projector. I hated it. I didn't really believe what he had to say about God, and it was the only place, outside of my home, where I felt startlingly aware of my blackness. It was heavy on my shoulders, like a cape, as I watched all these people in suits and skirts and big hats joyfully revel in the word of God, and in their community, and in their blackness. It made me uncomfortable. It felt wrong. When I was 14, they asked me if I wanted to go to church. I politely declined, and I haven't been since.
Coincidentally, that was around the time the world began to reveal itself to me, and I opened my eyes to it, and something changed irrevocably. I was suddenly profoundly aware of my blackness, and this cape I wore and wear on my shoulders, every day, in the shower and to school and to work and on dates and to bed. The weight never gets easier, and it causes you to bow your shoulders and bend your knees, to tiptoe around. You shrink beneath it. Painfully aware of your blackness, you become smaller.
The only time the cape comes off, or at least easier to bear, is when I hang out in groups with my black friends, or my family. It's lighter then, and there's a palpable weightlessness, and in these moments, I think I'm something like the man God made me to be.
G/O Media may get a commission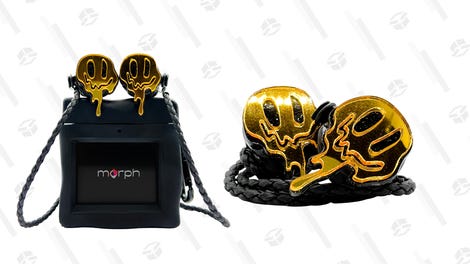 morph audio
Morph Earphones
But my blackness grows heavier, nearly unbearable, on days like last Wednesday, when a 21-year-old man named Dylann Roof walked into Emanuel African Methodist Episcopal Church and killed nine people who invited him in to join them as they joyfully reveled in the word of God and in their community and in their blackness, for no other reason than the color of their skin. It's happened before, more times than anyone wants or even knows how to begin to count, and it'll happen again and again—a stream of black bodies being destroyed by white men. You begin to despair, then, because all you can do is hope that the souls that inhabited these black bodies make their way to Heaven, or somewhere like it.
Today, President Barack Obama delivered the eulogy for Clementa Pinckney, Emanuel African Methodist Episcopal Church's reverend, who was shot dead along with eight fellow revelers. The country's first black president has been blasted over the last six and a half years for not acknowledging his cape, or at least not making ours any easier to bear, but this was a sensational, spectacular destruction of black lives, and so it made sense he was there, speaking. For about 40 minutes, he addressed Pinckney's family, and his flock, the country, and the world. He addressed me. At one point the president started speaking about Roof directly, and the easily imaginable theft of lives of people who look like me, because they look like me.
"We do not know whether the killer of Reverend Pinckney and eight others knew of all this history. But he surely sensed the meaning of his violent act," he said. "It was an act that drew on a long history of bombs, and arson, and shots fired at churches. Not random, but as a means of control. A way to terrorize and oppress. An act that he imagined would incite fear and recrimination, violence and suspicion. An act that he assumed would deepen divisions that would trace back to our nation's original sin.
"Oh," he said, the faint traces of a chuckle bubbling deep in his chest. "But God works in mysterious ways."
In that moment, I again thought of my blackness. For about 40 minutes, to remember a dead preacher, Obama became one. For about 40 minutes, he spoke, as members of Pinckney's family and flock urged him on. He spoke about being black, about the pain and the fear and the uncertainty and the heartbreak that floods every black heart, every day, and he spoke about it unflinchingly, with pride, in front of anyone and everyone who was watching. I got chills, and then I started to smile. I was back in church, joyfully reveling in the word of a God I do not know, and in a community I've never visited, and in the very blackness that could be my undoing. I wanted to laugh out loud and stand up, but something kept me seated, watching this church service in another room.
And then he started to sing. It was planned, of course, scripted. Obama spoke the words, "amazing grace." Then he sat in silence for five seconds or so. Then he said those two words again, in a deep, gravelly voice. He was singing "Amazing Grace," an old Negro spiritual that blacks in this country have been singing in churches for generations. I still remembered.
Everyone at the ceremony stood and joined him. I got chills again as I mouthed the words, staring through my computer screen. When he named the eight others who lost their lives—Cynthia Hurd, and Susie Jackson, and Ethel Lance, and DePayne Middleton-Doctor, and Tywanza L. Sanders, and Daniel L. Simmons Sr., and Shoranda Coleman Singleton, and Myra Thompson—I panicked, thinking I'd cry. I didn't. Because for that moment, I felt stronger—actually, physically stronger. I felt my cape, more than ever, but for the first time since I first donned it, over a decade ago, my blackness felt light, and warm. I didn't feel small. And then I thought about my parents.