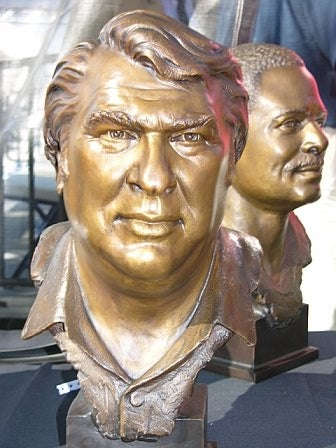 All right, football zealots. Finally, a televised NFL game (for lack of a better word). It's the Indianapolis Colts and the Washington Redskins. John Madden has been dipped in bronze gravy for this joyous occasion, and Al Michaels will be sitting on his knee. Before you follow along after the J-M-P, please turn in your signed and notarized waiver forms saying I will not be held responsible for you getting bored to death sometime in the third quarter. ***11:01 — And Mike Hart runs to the goalline, but he's just short, and time expired. And Appalachian State holds on to w... oh, sorry. Wrong game. Well, here's the important part. We all survived the game. Furthermore, we know exactly what Brett Favre is doing right now. I thank you for not taking a drink every time they said Favre's name. Not only because it's dangerous, but because it's not creative. Ted Thompson has already been doing that for the last month. Catch y'all on the next live blog. Refresh the page on your way out, please. 10:59 — With 14 seconds left, the Colts call a timeout. 14 seconds left. They're down by two touchdowns. John Madden doesn't even consider this the preseason yet. They call a time.ou.t. 10:56 — BRETT FAVRE UPDATE: Brett Favre has actually been asleep for the last two hours. He's currently going through the rapid-eye moment phase of sleep. Stay tuned for further updates. 10:55 — Pierre Garcon returns the kickoff to midfield. I have trouble believing Pierre Garcon is an actual garçon. Where's his cedille? It doesn't exist. He's a dirty fraud. 30


1610:52 — Turning briefly to the game itself, Jared Lorenzen kills the gripping, chilling, riveting comeback at the 2-minute park by throwing an interception-for-touchdown to Matteral Richardson. Lorenzen's only consolation is that Indianapolis has some really great steakhouses. 10:49 — BRETT FAVRE UPDATE: Brett Favre is only a 9-hour, 48-minute drive from Canton. 10:48 — Canton is only a 12-hour drive from Kansas City. So if you're not doing anything tomorrow, come on down! 10:46 — John Madden: You ought to see the Pro Football Hall of Fame "if you have an opportunity, or even if you don't have an opportunity, you should make an opportunity." Is there an online wiki on how to make one's own opportunity? 10:43 — Jim Zorn wanted to run the ball late in the game, but also wanted to see Colt Brennan throw. Ergo, Jim Zorn wanted to play the second half of the football game using running plays and passing plays. That's innovative thinking. 10:39 — Maybe the Redskins should have asked the Dolphins to throw in Jason Taylor's sleeves as part of the trade. You need to specify these things. 10:37 — BRETT FAVRE UPDATE: Brett Favre went with Turkey Stew. 10:33 — Jared Lorenzen throws for a first down. Is there a better name for a fat, underperforming quarterback than "Jared Lorenzen?" 10:32 — BRETT FAVRE UPDATE: Brett Favre is deciding between two cans of Dinty Moore soup. We will let you know if we find out which one he picked. 10:30 — Al Michaels wonders if there's a better name for a quarterback than Colt Brennan. Madden cant think of one. But I can. Strongarm McPassalot. 23


1610:28 — Touchdown, Brennan to Marcus Mason. Now that Colt Brennan is already a preseason Hall of Fame candidate, John Madden doesn't need Brett Favre's fun-ness anymore. 10:25 — Fred Dean, I just want to say, not only am I a big fan of your football, but I buy your frozen breakfast sandwiches at least once a month. 10:17 — Stock footage of Redskins training camp, where they threw foam pads at Jason Campbell as he dropped back. This wasn't actually part of practice, they were just filming a remake of Super Sloppy Double Dare. Instead of the tip drill, Santana Moss tried to pick a flag out of a giant nose. 10:14 — An update on a story we brought you earlier, Brett Favre went from the plane to a van, and the van drove away. Meanwhile, Aaron Rodgers threw a bad pass in a scrimmage game, and he immediately slipped in the depth charts. 10:12 — Congratulations, Lorenzen. You were just sacked in the backfield by a 7th round draft pick half your size. Fun while it lasted, though, as a Colt, right? 10:10 — Jared Lorenzen ran for the first down. I know it's almost the end of the third quarter, but it felt worth mentioning in case seismologists discover readings on their instruments tomorrow morning, they can read this live blog and find out the reason. 10:07 — And now "Sweet Child O' Mine" fades to commercial. Yep, they stole my iTunes playlist all right. 16


16RIVETING! 10:04 — Touchdown, Colt Brennan to Maurice Mann. The Redskins now trail Georgia by only 31 points. 10:01 — Fred Davis, according to John Madden, can do some of the things Chris Cooley does. These things include: blocking things, catching things, and making sure they can convert things on third and things. 9:57 — Colt Brennan's in the game. Jim Zorn told him they're on the island of Kauaʻi. 9:54 — I'm getting concerned. First NBC plays "Separate Ways" for the outro to commercial. Then they played "Sledgehammer." Did NBC producers hack into my iTunes during my halftime bathroom break? 9


169:51 — Adam Crossett kicks in the field goal. Yes, the Colts are trying out another kicker, just in case Adam Vinatieri had a Vanderjagtian breakdown this summer. 9:47 — We might not get a comparison of a WR in this game to Art Monk, but we did just get a comparison of Mike Hart to Darrell Green Madden thinks Mike Hart looks like Tony Dorsett in the face. Actually, I know what other black man he might look like. 9:44 — Oh, wow. A sign on TV: REDSKINS 8 2 1 8 FOREVER Clever, clever spacing. That's a thinker's sign. That guy can finish a Sudoku puzzle in 4 minutes. 9:41 — From Darrell Green's induction speech, talking about his late father: "They said 'no.' He said 'go.' " Thanks to John Madden, he explained that quote for us. If he could have telestrated it, he would have. 9:32 — They sent Bob Costas to the Olympics, which makes sense, because that's probably what he's best known for. They also sent ... Cris Collinsworth, a former football player and current football analyst. Football is ... not a sport in the Olympics. But they sent a football analyst to Beijing. Unless they're going to make him eat donkey penis, I'm not seeing the reason to send him to China. Halftime Entertainment 9


139:27 — Vinatieri could flick in a field goal with his fingers. But he uses his legs, for dramatic effect. That's the half. 9:26 — Quinn Gray throws a last-second big pass in the final seconds here. Arena Football 2 scouts in the stands take note. 9:24 — Ah, so the Colts' "First & 10" market is blue and white, to match their color scheme. So the only team whose marker will represent horrible-tasting candy will be the Redskins'. Fascinating, ain't it? Refresh your page for more such insight. 9:21 — John Madden on Jason Taylor: "I thought he lost 20 pounds, but he said he lost only 3 pounds. But he lost ... how many body fat things." No plural noun is caressed more in the English language by John Madden than "things." He does football things. There are 34.7 things left in the game. Stay tuned for some things from our sponsors. 9:20 — Madden remarks how that official review was a waste of time. I wholeheartedly agree. Now, back to watching Todd Collins running a football offense in August. 9:18 — Ah, cutoff football jerseys. Because previously were weren't convinced that these football players were in shape at all. 9:16 — Why have a montage of Hall of Famers waving at people from the weekend? Todd Collins is running the two-minute drill! This is exciting! Refresh!! 9:14 — Another one of NBC's shows, which is not a remake but a completely new idea that wasn't ganked from the Discovery Channel: America's Toughest Jobs. Next year, stay tuned for Let's See If This Urban Legend Can Be Done With Modern Technology, Using Former Stuntmen, Special Effects Artists, And A Token Hot Redhead. 9:11 — E-mail from Walkoff Walk's Camp Tiger Claw: "I hope the Hall Of Fame Game goes to 9 overtimes." There was a walkoff walk in baseball today, by the way. Can't remember who allowed it, though. 9:09 — Halloween is about three months away, and yet NBC's virtual "First And 10" marker looks like a giant candy corn. Now, since it's virtual, it's only an estimation. It's not entirely accurate. 9:07 — Andre Tippett was a New England Patriot? But he played in the '80s, and the Patriots didn't come into the league until 2001. Something doesn't add up. 9


109:05 — Quinn Gray refuses to be upstaged by stock footage of old men deplaning. He throws a touchdown, putting the Colts in front, provided the PAT is made. (Which t'was.) 9:03 — Bringing you an update to an earlier story, Brett Favre did indeed get off the plane. The plane did not just stay on the tarmac, then fly back to Mississippi. 9:01 — T.J Rushing scores a touchdown that's called back because of a penalty. See, again, there's another bad name for a cornerback. T.J. Rushing. For 100 brownie points and restroom privileges, who wants to say what position he should be playing? 8:58 — Jason Fabini gets called for a chop-block, which is pointed out was called because the rusher was already engaged in a block with someone else. They say if there was no other blocker there, Fabini could hit him there. That's like saying you can't shiv someone in the knee if there's a ninja in front of him fighting with nunchucks, but if there's no ninja there, then shiv away. 8:56 — John Madden's rule on snapping the ball: "Don't snap it at 12 o'clock." That seems more like a superstition to me. 9


38:54 — It appears some kind of football safety was scored. I happened to miss it because Emmitt Thomas's siren-sounding voice. If I ever have problems sleeping, I know who to ask me to read the phone book. But thankfully, I still have my secretive addiction to Ambien. 8:50 — Emmitt Thomas seems like one of those randomly-generated video game NFL names. You know. He'd play offensive line, next to DeShaun Janikowski and Santana Pennington. 8:47 — John Madden: "This is before the first week of preseason." Right you are, John. This game, actually, is not a preseason game, but rather a preliminary football regular season game, known instead as a "beforeactualfootballexhibition." Look it up. Wiktionary. Just ... just give me 15 minutes before you actually fact-check that. 8:46 — Todd Collins is in the game. It's probably the first time I noticed something in the actual game in about 20 minutes. 8:45 — With so many unfinished questions in the original Knight Rider, NBC is bringing it back this season. We here at Deadspin have obtained the exclusive trailer for this show. Here it is. 8:43 — I'll be honest. I had no idea it was already the second quarter. 8:42 — And, for some reason, there's an unwarranted slam from the booth on Terre Haute, Indiana. 8:40 — Jimmy Kimmel harangues us for not being able to see Adrian Peterson's record-setting rushing performance because "we only get four games on cable." Because of network restrictions, this commercial is blacked out outside of Minneapolis/St. Paul. 8:38 — And Al Michaels completely fucks over my bingo card with his professionalism and showmanship, getting through Devin Aromashodu's name with absolutely no hiccups. But I have to say he practiced that in the hotel mirror at least five times. 8:37 — Jared Lorenzen is also on the Colts. How about that. This is the first time I've seen Lorenzen on a wide-screen TV. He does have ears after all. 8:36 — Quinn Gray plays for the Colts now? If he's buried behind Sorgi in the depth charts, he'll most certainly be competing for the backup holder position. 8:33 — It's good to see Art Monk get into the Hall of Fame after so many years of unheralded, yet consistently brilliant, crime-solving in San Francisco. I hope they find out who car-bombed his wife. 8:31 — Al Michaels can't believe how young Jim Zorn looks. And John Madden can't believe that Tony Dungy is younger than Jim Zorn. Mr. Madden, while that may be accurate, coming from you I'm certain you'd say Pangaea also looks pretty young. 8:29 — The commenters pointed out the several sets of hashmarks on the field. I talked to the Fawcett Stadium groundskeeper about this, and he said that tomorrow they're having a life-size Space Invaders tournament, and they didn't have time to set up after this game. Personally, that seems like poor scheduling on their part. 8:28 — The Indianapolis "starting" defense has a guy from Temple and a guy from Buffalo. When you're picking defensive players from the MAC, you're already in trouble. But when you look to the bottom of the MAC East... 8:26 — So, a Mountain Dew commercial featuring a rhino that rams into Jack Hanna. I gotta say, that was extremely random. I hear they had a similar concept for a Dew commercial with Steve Irwin a few years ago. But I don't want to get into why they didn't film it. 7


3STILL ANYONE'S GAME! KEEP HITTING REFRESH!! 8:23 — Adam Vinatieri gets the Colts on the board, but not before Al Michaels all but puts down his life savings on Vinatieri getting into the Hall of Fame. I think that's a good possibility. Tickets to visit the Hall of Fame are very easy to obtain. 8:21 — Jim Sorgi's inside-the-10-year-line pass gets almost picked off by Fred Smoot. Dildo. 8:20 — Joseph Addai already suffered an injury, and is out of the game. This will certainly cramp my fantasy preseason team. 8:18 — Defensive end Rob Jackson, chew your quarterbacks up before you swallow them. And use a napkin! 8:17 — Madden on Ben Utecht, who left the team: "Because of all the things he did, they could do all these other exotic things with Dallas Clark." Are they not able to get Cantonese takeout anymore? 8:15 — A bit of love for Dallas Clark, who converts the third down. Everyone adores a white slot receiver with a bit of paunch. 8:13 — Brett Favre's plane arriving in Green Bay has equal anticipation yet inverse admiration as Richard Nixon's plane leaving. Somewhere in Mississippi, Aaron Rodgers is being sworn in as Deanna Favre's husband. 8:12 — Um ... was that a giant inflatable Red Grange? Now that I think about it, maybe they should play this game in leather helmets. 7


08:10 — Jason Campbell to Antwaan Randle El puts the 'Skins in the lead early. Someone tell the Colts, because I don't think they're aware the season's already begu... oh, it hasn't? 8:09 — An on-side kick to start the game for the Redskins. THEY CLEARLY WANT THIS GAME MORE. 8:08 — Al Michaels mentions how Fawcett Stadium is named after a local administrator, just in case anyone was assuming Canton, Ohio has had a 30-year-long boner for Farrah. 8:05 — Adam Schefter is replacing Andrea Kremer on the sidelines. Can guys actually do that job? I mean, obviously they can, but they'll get paid more for doing it. So it's just not cost effective. 8:03 — I swear, they gave John Madden a larger microphone than Al Michaels'. This is like one of those "which square is bigger?" optical illusions. 8:01 — They're announcing this year's HoF inductees down on the field. I'm going to keep saying it. "Tippett" is a much, much better name for a defensive back. A better linebacker name is "Blitzwhennecessary."

Pre-Game Babble So. Why live blog the Pro Football Hall of Fame Game? Because it, along with the Super Bowl and the MLB All-Star Game, are the three most important competitions in sports today. The Hall of Fame Game is among the most routinely watched sporting events in the United States, along with one of the most heavily gambled on games. No wonder 25 of the last 28 teams to win this game went on to win the Super Bowl and 5 of the last 7 league MVPs participated in the game. (Or at least the first quarter of the game.) Having said that, please tell me you didn't believe a single sentence in the above paragraph. The players we actually know probably won't break a sweat — Reggie Wayne will likely be running his routes in pajama bottoms, to be honest — and the outcome of the game will be meaningless and irrelevant to each teams' ability. But ... Madden. Freakin' Madden. You've had so many months of not seeing John Madden try and keep up with the world around him. Those ... those eyebrows. (If you can still use the plural on that.) His eyebrows have plumed so well over the years, the Gramatica family often vacations to them in April. So yes. The number of households who watch this game in its entirety probably equal the number of panelists now on Football Night In America. Which means nobody will be reading this live blog. (This means that you, kind reader, actually do not exist.) But in a way, that makes it more appealing to watch and live blog. It's the same reason "Manos: Hands of Fate" is so horribly delightful to watch. Here's your bingo card for the night.
Special Instructions, subject to change: • The Brett Favre square involves his name coming up in two separate quarters. Otherwise we basically have two free spaces on the card, and if we have two, why not have five? Why not just give you a goddamn bingo card with five squares in a row already punched out?