Two extant profiles exist of Jovan Belcher, one written as Belcher was finishing up at the University of Maine in 2008, the other on November 21, 10 days ago. Taken separately, neither is particularly telling, except insofar as you learn that if there were warning signs related to Belcher's mental health, neither the Boston Globe nor the official Chiefs website saw fit to mention them. Both authors wrote uncomplicated articles about a model citizen version of Belcher, who strove against all odds to achieve his goals, and treated others well along the way. As many have noted, Belcher seemed in a good frame of mind not long ago.
Jokic? Embiid? The NBA MVP is obvious... right? | Keep it a Buck(et)
There are moments of dark irony in each—the first profile (sub req'd) is titled, "Belcher no longer a secret weapon"—but they mostly stem from accidents of phrasing. The combined portrait is essentially a football traditionalist's dream: Belcher was from a small town, humble, undrafted out of Maine (an FCS school, and the only program to offer him a football scholarship), and supposedly too skinny to play in the pros. He graduated in 3 1/2 years with a degree in "child development and family relations." His college coach raved, "I don't know another player who runs to and through the whistle as well, who goes sideline to sideline as well," and, "He's a great role model. He's the captain of our team, as well as an astounding football player. He models all the right things." He was All-America in football and wrestling, but wanted to play a team sport.
In both pieces, Belcher talks about what lessons he took from wrestling—in the first, he says of the wrestler's state of mind, "You want to give up but you can't. You keep pushing yourself and pushing yourself." In the November 21 piece, "Chiefs Insider" Reid Ferrin asked Belcher what wrestling taught him about playing linebacker in the NFL.
"Just being versatile. I think it helped build my whole (just) mental mentality, to never give up and just keep fighting and wrestling was a big part of it and it still is."

From the football fields and wrestling mats to the practice squad and special teams of the Chiefs, Belcher pursued his dream job like he now does ball carriers on Sundays, with relentless passion.
G/O Media may get a commission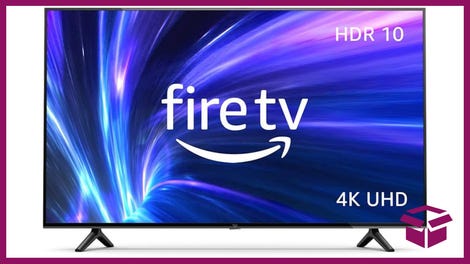 42% Off
Amazon Fire TV 50" 4K Smart TV
Belcher went on to "give thanks"—it was a Thanksgiving-themed piece—for everyone who made his life in the NFL possible: "First and foremost, God. Family and friends just keeping me focused, coaches and just everyone." The two articles don't solve any puzzles or even give us pieces to work with. By all accounts—by both of the accounts we have now—Belcher was a great story until this morning.
Note: The second article has been deleted from KCChiefs.com—tough to say when, because we had it open in a tab for a while. But here's a screenshot:

Jovan Belcher No Longer A Secret Weapon [Boston Globe]
Belcher's Drive To Succeed Helps Team and Self [KCchiefs.com]