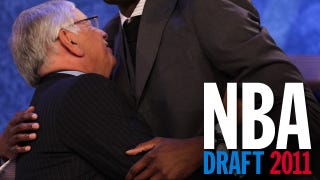 Hope David Stern enjoyed the PATH train, on his way to the NBA Draft's new temporary home in Newark. Who will your team get? The guy with the sore toe? The other guy? That foreign guy people have doubts about? Let the dreaming begin.
More draft coverage: Many People Who Resemble Kyle Singler | Your Passive-Aggressive Scouting Guide | Last-Minute Draft Delusions

Talk: Do the Europeans have enough length? Wouldn't a less talented version of Chris Paul just be a very short, lost point guard? Discuss here.