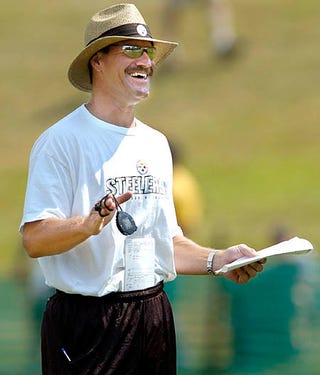 Not so fast, Jets fans. This guy was almost done with his makeshift Bill Cowher T-shirt when the news came down: The Scowl has rebuffed the green and white after all.
On Tuesday Cowher said he'd like to talk with the Jets about their head coaching position, but by late that afternoon — oh, around the time that Mike Shanahan was fired in Denver, coincidentally — Cowher changed his mind and said he wasn't interested. Denver would be a sweet spot for Cowher to land, as Shanahan was in charge of everything there up to and including choosing the ply of toilet paper in the stadium restrooms. The Jets probably weren't going to give him that much control.
Also, one presumes, Tampa Bay's weather would be nice. You may think that Jon Gruden is untouchable, but then you've forgotten that the Buccaneers lost their last four games and missed the playoffs, including a stinker to the Raiders. So why would Cowher rush into anything right now? Before the season is over the Chargers job may even be up for grabs.
I'm telling you though, Bill; you keep screwing around, and this is going to be your future.
Newsday: Bill Cowher Gives Jets Flip Flops For Christmas [Bob's Blitz]
Cowher Out Of Running For Jets Job [Yahoo Sports]
Bill Cowher No Longer A Candidate For New York Jets Coaching Job [New Jersey Star Ledger]
Broncos Fire Icon Shanahan: Are Gruden And Lewis Next? [Sporting News]