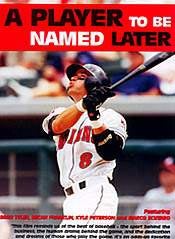 Harry Chiti was an old catcher who, in 1962, was traded to the New York Mets for a player to be named later. That player turned out to be Harry Chiti, who was shipped back to the Indians 15 games later.
That is to say: We love The Player To Be Named Later. And so does The Feed, which puts together a comprehensive history of the baseball-unique animal.
It isn't easy being a player named later. You're just sitting there enjoying an afternoon showing of "No Reservations" before dinner at the California Pizza Kitchen with a comely co-ed when, wham, you get a call on your cellphone and find out that you are the Player Named Later and need to be in Modesto by Friday. I don't envy their life.
We have a feeling, after a couple of starts, we'll be hoping The Player To Be Named Later in the Cardinals-Red Sox deal is ... Joel Pineiro.
The Ballad Of The Player Named Later [The Feed]