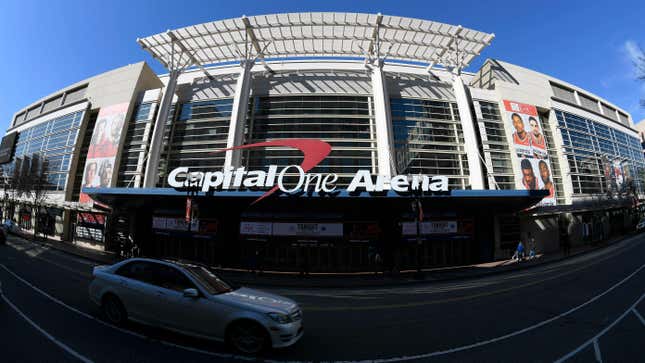 We'd wondered when Middle Eastern regimes would come for U.S. sports. They've got their mitts all over soccer now, warping how that sport works in Europe. They've completely altered golf. Boxing too. And yet it seemed that North America was the last frontier.
Black Quarterbacks = Big NFL Ratings | The SEO Show
And now they've crossed it. The Qatari Wealth Fund has purchased a minor stake in the parent company of the Washington Wizards, Capitals, and Mystics. Eyebrows may be raised at the last one, given how Qatar treats women in their own country. But improving women's sports has been a big part of the sportswashing campaign. The UAE ownership has greatly boosted Manchester City's women's team into a power in the WSL. This same wealth fund has improved PSG's women's team into the French first division.
The NBA hasn't completely signed off, but will thanks to it being a non-controllable share of the company. The NHL, perhaps giddy that anyone wants to get involved in their league, especially rampant homophobes like these (we'll get to that in a second), has already rolled over.
Most fans will take shelter under the hope that a five percent stake means that the QIA isn't making any decisions, and are just a silent partner. But we all know that's not forever and wonder just how long that will last. It is not the rest of the leagues' owners' consciousness that we should count on to save the day, but their greed. Should an outfit like the QIA want to purchase a controlling stake in a team, you can bet the other owners are not going to let them stroll in and make them all look bad with their unending wealth and desire to be seen as good people.
The NHL and NBA, and one day the NFL, may think that their salary caps and luxury tax will kneecap any advantage the Qataris or Saudis may have with their bottomless checkbook, but there's always a way around. And these aren't groups that are unaccustomed to taking a shortcut or an end-around (research Man City or PSG' and FFP and you'll see what we mean).
Time will tell if this is just a happening that will be lost on the wind in the future, or a beachhead for various American leagues to have the same problems that European soccer has found. What we can say for sure is that none of it is good. American sports shouldn't be a haven for sexist, homophobic, murderous regimes to try and rehab their image, But then, look who already owns some teams and the fingers Congress or the authorities have never lifted on them as they've siphoned off billions for themselves. Is it such a big jump in the end?
Speaking of bastards
When Gary Bettman made this decision, he should have taken a good look at who was celebrating to see who he's thrown hockey's lot in with. And this isn't just about the Pride Night jerseys that the league let spiral out of control in completely unnecessary fashion, but the Black History month jerseys, or the Indigenous People's, or a host of others that at least made a wave as welcoming groups of people that haven't always had the door thrown open to them at NHL and hockey arenas.
Yet somehow one gets the feeling that the camp jerseys for military appreciation night will still make their way onto the ice. Or the St. Patrick's Day ones, because the NHL is beholden to old drunks.
Once again, this is about hockey culture's adherence to the sanctity of "the room." The insistence on team over all is the root of all of hockey's problems, from its ignoring of head injuries to its problems with sexual assault to its continued use of racial and gay slurs to a host of other ones I'm simply too tired to mention. When you get a bunch of grade-school-educated morons sequestered in a hockey dressing room from the age of 13 on, this is what you get.
The NHL doesn't want any player to get singled out anymore for being a homophobe and a bigot, so instead, it would rather make every player look like one than have a couple of individuals having to stand out on their own. Uniformity is king in hockey. Marc and Eric Staal having to hilariously defend themselves, and fail, is seen as worse than every Florida Panther being unable to convey the message that the LGBTQ+ community is welcome at their home games. That is also worse in Bettman's eyes, than the bigots and dangers to society who will be celebrating this decision. But then, most hardcore hockey fans are dangers to society in some way, probably.
The NHL gains nothing from this other than getting to duck some headlines next season, whereas remaining welcoming and doing the barest minimum just might have gained them some new fans and made all the gay players that are in the league, and they are there, feel that there could be hope one day for them.
But no, that would be a "distraction." Can't have that in "the room." It will remain closed off, as will the league and sport. And they'll deserve it.
---
Follow Sam on Twitter @Felsgate.