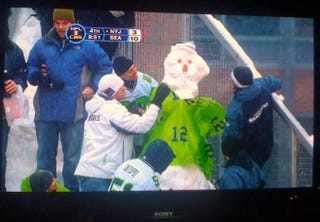 This is clearly the best snowman ever built, anywhere; it looks exactly like its subject. I just pray that the guy in the Lofa Tatupu jersey isn't preparing to affix a second carrot.
Poor Jets; they just can't win on the west coast, even when they're handed east coast weather conditions. Brett Favre played like he'd never seen snow before, and as a result, the Jets are no longer in control of their playoff destiny. A Mets-like collapse, to be sure. Meanwhile, Mike Holmgren wins his final home game with the Seahawks; he'll take a year off before returning to coach the 49ers, after Singletary spontaneously combusts.
But seriously, when that snowman makeover was done he looked simply fabulous.
Eric Mangini, Jets Fall To Seahawks And Lose Control Of Playoff Destiny [New York Daily News]