So, yesterday, hilariously inept* conservative politics flack and weird cable news creature Liz Mair did, and later deleted, a very bad tweet:
This tweet is not really what this blog will be about, but let's take a second to parse it out anyway. Liz Mair is sick and tired of these damn Mongolian (?)-looking Spanish-speakers, whose Mongolian (?) looks do a bad job of letting her know that she could converse with them fluently in Spanish instead of clumsily, in English. Okay. Yes. Insane racist gobbledygook. Got it.

*Seriously, even apart from yesterday's meltdown, this doofus's résumé is fucking hysterical. Take a spin through her simultaneously brief and superfluous Wikipedia page, if you want a laugh or ten. She was the "Online Communications Director" for the Republican National Committee in 2008, when the party got waxed at the national level, losing the White House and both houses of Congress. She has served as an aide—specializing in communications!—to a whole clown car's worth of utterly radioactive, universally derided human-shaped punchlines: Rand Paul, Scott Walker, Carly Fiorina, Rick Perry —Rick Perry! For the love of God! She lost her job doing communications for Walker literally the day after she got it. She founded a PAC to defeat Donald Trump in 2015. She created an ad supporting Ted Cruz's presidential bid. So far as I can tell she has never succeeded at anything. 
One might guess that a thought (?) like this would not find the most receptive audience on Twitter, both because literally no thought ever has found a receptive audience on Twitter and also for the more precise reason that it is a floridly bonkers and really quite awful thought that would not find a receptive audience pretty much anywhere besides, like, a KKK meeting specifically for bigots who want to congratulate themselves for being bilingual. No points for guessing that people would hate the bad tweet. That is like guessing how many heads you have.
What I would like to call your attention to, however, is our dear friend Liz's tweet-thread defense, 10 hours later, of her truly insane tweet about Spanish-speaking persons who offend her by making her think that they are from Mongolia (?????????????). It is one of the most special things on the internet, ever, and you can find it screencapped and pasted below in its entirety, with some analysis:
G/O Media may get a commission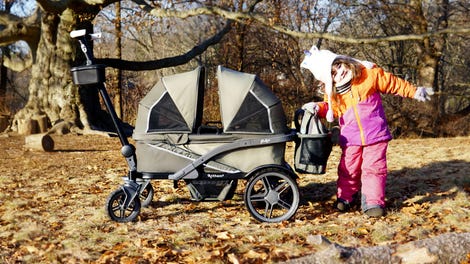 30% off
The Anthem All-Terrain Stroller Wagon Adventure Bundle
Go everywhere with your kids
This must-have bundle nets you either of Gladly's award-winning Anthem2 or Anthem4 All-Terrain Stroller Wagons as well as must-have accessories like a parent cupholder, a removable storage basket, extra-large canopies, a nap system, quilted comfort seats, a cooler bag with a padded shoulder strap, and a travel bag.
Ah, I get it. When Liz complained about Spanish-speakers who have the gall to appear, to the eyes of Liz Mair, as though they are, uh, Mongolian (??????), she actually was making fun of, ah, racists. The problem is that rather than interpreting it that way in the total absence of any reason to interpret it that way, people instead (Malingerers? Mongolians? Who can say?) just read what it actually said and interpreted it as more like meaning what the words in it mean when you put them in the order in which Liz Mair put them, presumably on purpose.

People who are at fault for Liz Mair getting a bad Twitter ratio for saying that she is fed up with Hispanophone Mongolians whose ability to speak Spanish she cannot detect by looking at them, according to Liz Mair:
Americans, for being bad at detecting sarcasm; and

A guy (possibly Mongolian[?]-looking?[???]) who saw a white lady in an overwhelmingly Anglophone society and figured, correctly, that she probably speaks English, instead of assuming that she speaks fluent Spanish, and then tried to talk to her in her own first language.
(It's no good pointing out here that many of the people dragging Liz Mair on Twitter for saying that it is inconsiderate to be a Spanish-speaking person who looks, to Liz Mair, Mongolian [???????????????????????????] were not, themselves, American. As we will see, Liz has some very peculiar ideas about national identity.)
So the problem, you see, is that the Mongolian (?????)-looking Spanish-speaking man failed to take into thoughtful consideration, when he approached Liz Mair and attempted to speak to her in what he reasonably and rightly guessed was her first language, that maybe she does not actually enjoy "being the person who gets asked things on the street by people who are lost or seeking information and shrugging and saying 'I'm sorry, I don't know what you're saying.'" What a rude, thoughtless asshole that guy is, on top of looking like he is from Mongolia (???????) but also speaking Spanish more fluently than English.
Strictly speaking, I think that first part, at least, is... true? "To me it's offensive when people do not appear, at first glance, unambiguously to belong to whatever racial or ethnic background most stereotypically corresponds to their first spoken language" isn't really a nativist position. It's more of a deeply insane and racist one.
Okay, here comes the truly bananas shit. I'm so excited.
All of this is fucking incredible, just absolutely some primo online edgelord No, when I say racist stuff, it doesn't count for the following reasons shit. But I would like to call special attention to the "I am British, this is what we, the British, are like," bit. With that appropriately highlighted and stored in your short-term memory, here is a passage from a short biography of Liz Mair that can be found in the "About Liz" section of Liz Mair's personal website, lizmair dot com:
Liz was born and raised in Seattle, Washington, and lived in the United Kingdom for ten years. There, she earned an MA in International Relations from the University of St. Andrews and attended law school, ultimately practicing corporate law in the City of London for three years.
Ah yes, a true Brit, innit. Why, she's a regular 'arry Potter.
When you criticize Liz Mair, an American from Seattle who paused halfway through A Fish Called Wanda to declare herself a British person, for saying that it pisses her off when Spanish-speaking people have the indecency to have physical appearances that make her think they are from Mongolia (????????????????????????????????), you are doing racism against her British sarcasm culture. You are doing an imperialism! Against the United Kingdom! Which is embodied here in this case by an American person from Seattle who was moved to express her vexation about Spanish speakers not doing a good enough job of looking like they are from Hispanophone places!
Only dumb nativists think that nations have unifying cultures, and Liz Mair, a Seattle native who drank English breakfast tea one time and decided that made her the Duchess of York, is no nativist. Therefore she does not buy into the dumb nativist idea of there being any kind of defining national culture. We're all just individuals!
Unless, and this caveat is important, we are British (or "British"), in which case our unifying national culture is "American people from Seattle getting mad at Spanish-speaking people for looking like Mongolians (???), but, like, not in a racist way, but rather in a sarcastic way that makes fun of nativists on like a subliminal level that only other British people (from Seattle) can understand but which makes the ape-like Americans screech and defecate in terror and confusion, so actually it's good."
You got that, you bunch of babies? Quit getting offended by Liz Mair, a British person from Seattle who definitely is not racist at all.
Ah,