Because no one reads the newspaper, and SportsCenter's anchors are too perky for this early in the morning, Deadspin combs the best of the broadsheets and internets to bring you everything you need to know to start your day.
• It is safe to say that Rafael Nadal is the best. Adjust your t-shirt collections accordingly.
• The Rays defeated the Yanks in extras to move into first place in the AL East. Hasn't LeBron suffered enough this summer?
• Fire Rex Ryan: Jets lose sloppily. Hire Todd Haley: Chiefs win soppily.
• Jonah Keri has written a pretty definitive take on arm injuries in baseball and how the Rangers will have less of them than your team .
G/O Media may get a commission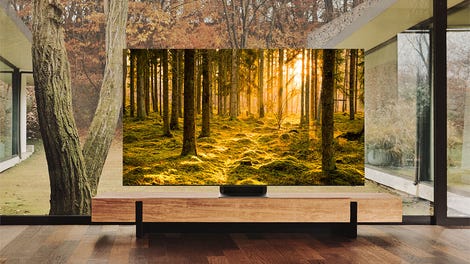 Up to 40% off
Samsung Smart TVs
• That popular strain of brain trauma-induced diseases seen among all the dead NFL players these days is catching on in the college ranks. If they're going to get paid like NFL players they might as well die like them too.
• Allen Iverson is considering a jump to China to once again shut Stephon Marbury the fuck up.
• Tate Forcier's family wants your budding star quarterback to have it better than Tate Forcier did.
• If you liked A Daily Show, the popular Writer's Strike replacement program, you'll love this profile on show creator Jon Stewart's new show The Daily Show.
• If you haven't read Camille Dodero's piece on the Juggalo culture yet, you're obviously not as fascinated by Juggalo culture as we are.
Nadal adjusting wedgie pic via Mike P.
*****
Good morning. It's Tuesday.