Suspended Raiders linebacker Aldon Smith appears to have knowingly live streamed video of himself smoking weed on Periscope, a move that would be at least as hilarious as it is reckless.
As reported by CSN Bay Area, the little-followed Periscope account for the user @ravenga features numerous of videos of Smith—who has plenty of free time—doing mundane things. But the video titled "Fire up session" from 16 days ago shows a man and a woman smoking a blunt, presumably filled with weed. While neither of their faces are ever shown, the voice certainly sounds like Smith's, and after the woman repeatedly questions whether the man should be live streaming, he says:
"You're stupid. You're tripping. Nigga they don't know it's me. It's not like I put 'Aldon Smith' …"
The video, which you can watch below, ends directly after that.
Despite almost nobody giving a shit about smoking weed in 2016, the NFL still does, and bans the drug even though it's an effective means of pain management. Smith, who the Raiders re-signed in April, was suspended by the NFL for a full calendar year last November in the wake of his third DUI arrest, under the NFL's substance abuse policy.
G/O Media may get a commission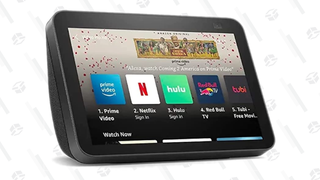 Smith's agent didn't respond to CSN Bay Area's request for comment, and Ed Werder reports that the NFL "will investigate whether Oakland Raiders linebacker Aldon Smith has violated the protocols required of a suspended player seeking reinstatement to the league following a violation of the substance abuse policy."
UPDATE (12:58 p.m.): Hmmmmmm.