Florida, the seventh-ranked team in the nation, hosted Stetson, a team that entered the game 13-17 overall, Tuesday night, playing four full innings that can only be described as an ass-beating by the visiting team.
The Hatters batted around in the second inning, had five doubles by the third, and entered the top of the fifth up 10-1—despite its ineptitude at the plate all night, Florida managed to score in the bottom of the third. Through four innings, the game looked like it was going to be a major upset for the squad hailing from the Atlantic Sun Conference. The Hatters won the conference last year but have had a rough go of it this year; still, they played the Gators close in their first matchup in March, losing 9-8 in extra innings.
But in the top of the fifth, the game was put on hold due to heavy rain and thunderstorms that swept through the area. After coaches from both teams helped get a tarp over the field, Florida announced that the game would be not be finished that night on account of the bad weather.
According to Stetson's account of the game, Florida waited 25 minutes after the delay was called to roll out the tarp, and by the time the cancellation was announced at 9:55 p.m., the rain had stopped falling.
G/O Media may get a commission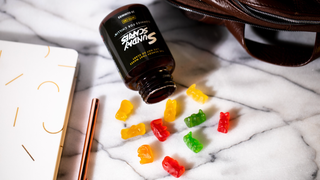 10mg CBD Gummies (22-Count)
According to the NCAA rulebook, a college baseball game can only be called after five innings. But since Florida and Stetson only played four of the required five innings, Tuesday's game will not go down as an embarrassing loss for Florida, nor will Stetson get to mark it as a righteous upset. Instead, the game will simply be a blank mark.
Realizing this, Stetson reportedly wanted to finish the game to get the victory on the books. According to 24/7 Sports, the Gators would not agree on a make-up date. Today, Stetson's coach Steve Trimper tried to put out the flames, posting a trio of tweets commending Florida on last night's game and telling fans he's looking ahead to the Hatters' upcoming games.
That's all fine and good, and Trimper is certainly being the bigger person here, but once again, some rain got in the way of a game and Florida weaseled their way out of a loss. The Gators got their asses kicked—the least they can do is make it official.