Well, this is just what the Pirates needed. The wife of one of their top minor league prospects is being questioned in the apparent kidnapping of a baby from a Plant City, Fla. health clinic.
The two-month-old was returned unharmed on Tuesday, one day after allegedly being taken from its parents by Amalia Tabata Pereira, 43, who is the wife of Pirates' minor league outfielder Jose Tabata, 20. Hmm. Jose is closer in age to the baby than he is to his wife. But I'm not judging.
Tabata Pereira apparently posed as a health care worker, telling the mother, Rosa Sirilo-Francisco, that she was about to be deported and that she could help with the infant. There is no indication that Tabata himself was involved. From ESPN:
Jose Tabata addressed the matter in a statement released by the team. "I was shocked to be told today that my wife has been arrested for kidnapping. I am hurt, frustrated, and confused by her actions," Tabata said. "I have and will continue to cooperate with law enforcement officials in anyway that I can. Until I have all of the facts, I cannot comment any further."
The Tabata File: He's from Venezuela, and hit .314 for the Gulf Coast Yankees in 2005 when he was only 17. He was traded from the Yankees' organization to the Pirates' in July 2008 with three other minor league prospects for Xavier Nady and Damaso Marte, and last season was with the Class AA Altoona Curve. Oh, and according to one blog, he's been dubbed Mini-Manny "for having quick hands and great bat speed, but also for his bad attitude."
Sorry that this is your first spring training news of the season, Pirates fans. We'll make it up to you somehow.
G/O Media may get a commission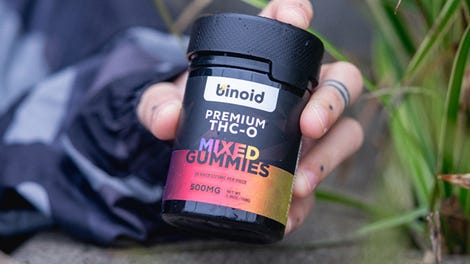 25% Off + Free Shipping
Binoid THC-O Gummies
Police: Baby Snatched From Fla. Clinic OK [Pittsburgh Post Gazette]
Tabata's Wife Suspected Of Taking Baby [ESPN]
Plant City Parents Reunited With Baby [Tampa Tribune]