Rajon Rondo has never been a great free-throw shooter. Coming into the 2014-15 season his career average was 62.1 percent—substandard for a point guard—but so far this season, Rondo has been a calamity. He's shot a horrendous 9-30 (30.0 percent) clip from the "charity stripe" in his 15 games played. This is unsustainably bad.
Below are several screenshots of data visualizations that show just how historically bad his free-throw shooting has been thus far. (For the full, dynamic visualizations, click here.)
Yes, that lone data point on the far left is how Rondo's season compares historically to those of fellow guards. In order to qualify for the NBA free-throw title, a player must make at least 125 free-throws (those numbers dip to 76 and 101 for the strike shortened 1998-99 and 2011-12 seasons, respectively). However, because I wanted to look at free-throw futility rather than free-throw success, I did the inverse of the "leaderboard" metric and changed free-throws made to free-throws attempted when deciding whom to include in this analysis (for the 2014-15 season, players were required to have attempted 25 free-throws).
If Rondo does not improve over the course of the Celtics remaining 66 games, he will break the NBA record for free-throw futility of 30.9 percent set by Olden Polynice in 1998-99. Right now Rondo is in dead last out of what is currently 9,323 individual qualifying seasons since 1946-47. The record for lowest free-throw percentage for a full qualifying season by a guard was set in 1953-54 by Al McGuire, who shot 43.6 percent. McGuire would go on to become the head men's basketball coach at Marquette where his 1977 team won the NCAA title. In that championship game, his team, ironically, shot an incredible 23 of 25 from the free-throw line.
G/O Media may get a commission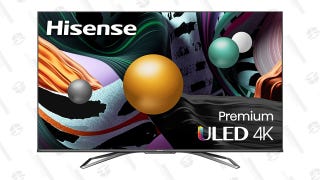 Save $350
Hisense ULED 65" Android 4K HDR Smart TV
The good news for Celtics fans is that Rondo will likely improve as the season progresses. Even though he has never been a great free-throw shooter for a guard (he shot between 55 percent and 70 percent in each of his first eight seasons in the NBA—see chart below), if he shoots his career average prior to this season (62.1 percent) on his roughly 100 remaining free-throw attempts, he will "improve" to 54.6 percent. This would still put him in the bottom 0.6 percent all-time for guards.
Perhaps what is scariest about all of this is who Rondo is grouped with when you add Centers and Forwards back into the mix.
When it comes to free-throw shooting, Chris Dudley and Ben Wallace are not who you want to be stuck on an island with...
Woof.
All data courtesy of Basketball-Reference.com
Image via Getty