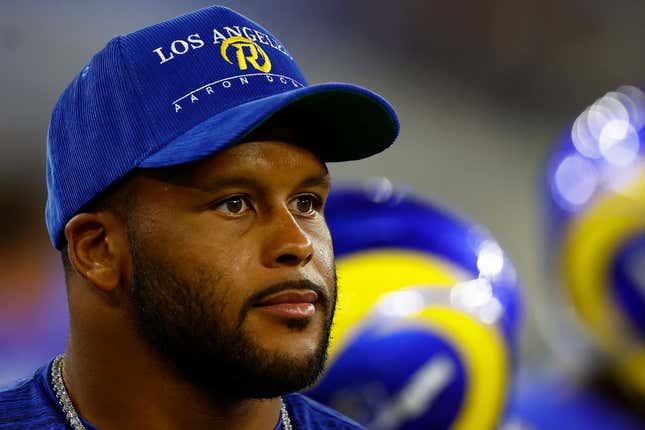 The release of Madden NFL '24 is just days away, a massive event in the gaming world. This year five NFL players will enter the season with 99 overall ratings; Aaron Donald is once again at the head of the class for a record seventh time in his career. With that, he passed Hall of Fame quarterback Peyton Manning as the all-time leader in the 99 club. A more mature generation of football fans probably says, "It's just a video game." But John Madden's 'gamesake' has become an institution and changed the way fans and players of certain generations see the game.

Joining Donald in Madden's 99 club this season are Justin Jefferson, Patrick Mahomes, Travis Kelce, and Zack Martin. Over the years, Madden has had an effect on how we view the game of football, in large part. Even outside of the ratings, an entire generation of fans have come to learn the game on the field more intricately by playing Madden football.
More than just a game
More players admit every year that they've learned to read plays by playing Madden growing up. Even some current QBs in the league have admitted to playing Madden and using it to help them learn the game and stay sharp to this day. Guys like Patrick Mahomes, Lamar Jackson, Teddy Bridgewater, and Derek Carr are all huge fans of Madden.
"I started playing as early as I can even remember. It [Madden] helped a lot, to be honest. I wasn't on there just mashing buttons or looking for the open guy, I was literally trying to use motion to figure out coverages and things like that." – Derek Carr 
To some, it might be just another video game, but Madden is a way of life for many of these players. The game has its own week where ratings are unveiled, and it's covered by mainstream media as intensely as the real-life games taking place on Sundays, Mondays, and Thursdays. The man behind the game, John Madden, passed away in December 2021. He undoubtedly left behind one of the most prolific legacies in football history.
Many people today (especially kids) don't realize Madden was a Super Bowl-winning head coach with the Oakland Raiders and one of the all-time great analysts to ever call an NFL game. Three careers in one sport. We may never see anything like this again.