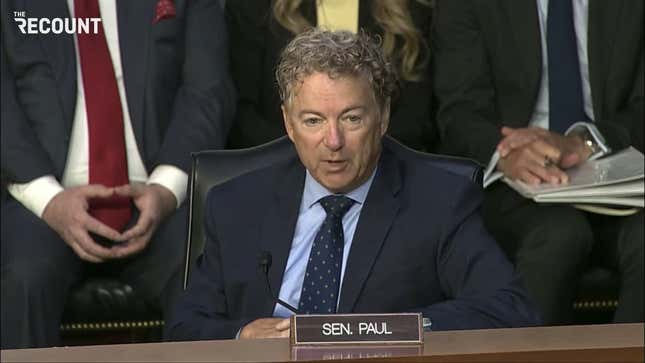 It's not exactly a revelation to discover that white conservatives identify more with the PGA Tour than the NBA. It's become part of their doctrine to attack the largely black National Basketball Association for just about anything. So we shouldn't be shocked that one of their most prominent members used Wednesday's three-hour Senate Homeland Security Committee's Permanent Subcommittee on Investigations' antitrust hearing as a format to attack college basketball players. During the three-hour public hearing focused on the PGA Tour's merger with the Saudi-owned LIV Tour, feculent Republican Kentucky Sen. Rand Paul blew the loudest dog whistle he could find in a hamfisted attempt to demonstrate how full of it he is.
How running an NFL team is like running a restaurant | Chef Emeril Lagasse
"Many of us loved watching college athletes who weren't paid. Now everyone that plays college basketball is going to be driving a Bentley or a Rolls. I mean we're going to be seeing rap stars instead of basketball stars," he said.
Paul previously told Black Lives Matter to change its name and tactics, blocked the passage of legislation that would make lynching a hate crime — last year, his political opponent, Democrat Charles Booker wore a noose in a campaign ad attacking Paul — has made plenty of hateful comments regarding the Civil Rights Act, and told fellow GOP asshat Laura Ingraham that he was glad his train didn't stop in "riot-scarred" Baltimore after the death of Freddie Gray.
The mangled thought his constipated brain was trying to convey by deflecting from the PGA Tour's mess by using black student-athletes taking advantage of their name, image, and likeness as a human shield is simple to decode. Translation: Leave the PGA alone. We should be looking at college basketball, which gave me a bigger dopamine rush when its athletes who resemble rappers were being exploited for their labor. I look forward to Paul's associated essay on the 50th anniversary of hip hop on how the genre was better off before it became commercialized too.

Within the bluegrass state, Kentucky and Louisville reached their apex in the pre-NIL era when Rick Pitino and John Calipari recruited five-star talents typically compensated under the table. Flau'jae Johnson is the only artist in college basketball and she's more known for being a national champion. A decade ago, Drake spent more time around the Kentucky program in Wildcats warmups than the actual one-and-done freshmen funneled through Lexington for years before they headed to the pros. Maybe Paul is alluding to the glory days of amateurism when elite student-athletes had to engage in illicit transactions to earn compensation for their labor.

All Kentucky players look alike isn't a defense, but it wouldn't be surprising considering sentiments echo the trite and antediluvian arguments used against student-athletes being able to profit off their likeness' since the early 90s. Despite being a staunch free market advocate, Paul's limit ends at college basketball's largely black labor force. At a time when the former Governor of Massachusetts is lobbying on behalf of the NCAA for NIL laws, it's people like Paul who will have a say in student-athletes' ability to participate in free market capitalism Republicans speak so highly of when the PGA Tour is around. Sports are a microcosm of how they view the country should be governed. Law enforcement, taxes, and capitalism should benefit the in-group and exclude the rest.

It's to be expected that student-athletes profiting on their end would draw their ire. When they're not busy ginning up a new boogeyman in woke-ism, NBA players and college basketball student-athletes represent a metonym for rich, scary, and uppity blacks.

In modern political warfare, black athletes are an easy target. College basketball and college football underwent its own professionalization decades ago, but the 2021 NCAA v. Alston ruling brought athletes a piece of that professionalization. It was inevitable they started targeting black student-athletes as political props like they do their pro counterparts.

In 2019, a hypocritical bi-partisan group including Ted Cruz, Josh Hawley, and several other GOP members asked the NBA to suspend activities in China and criticized them for not putting "fundamental democratic rights ahead of profit."

A year ago, Tennessee Sen. Marsha Blackburn wanted the NBA taken to task for hosting a preseason contest in the United Arab Emirates due to its archaic laws against homosexuality while promoting the ostracization of the LGBTQ community at home. These people couldn't find North with their broken moral compasses.
Rick Scott trolled the NBA over its business with China being at odds with its social justice beliefs. Meanwhile, following the LIV-PGA Tour merger, Scott met with the Saudi ambassador and said, "What we've got to do as a country is we've got to build relationships where we believe people are trying to do the right thing."

Fox News was the origin of the "Shut up and dribble" mantra. Rand Paul isn't some dolt with half a brain cell. Well he is that, but he's also more complex than that despite his simpleton words. He's just following the company line to compete with the lowest common denominator within his party to earn Employee of the Month.

---
Follow DJ Dunson on Twitter: @cerebralsportex