It looks like Sean Avery's hot-headed, loose cannon ways are rubbing off on his head coach John Tortorella, who got himself suspended for today's crucial Game 6 (on national TV!) against the Capitals.
The Rangers had a chance to close out their series in Washington on Friday, but instead got lit up by the Caps 4-0. Now they have another shot to end things at home, but because their coach saw fit to get in a water fight with a fan during Game 5 they will have to do it without him. Tortorella was hit with a tasty beverage, but it looks like he may have been the one who started it.
Capitals' season ticket-holder Claudette Chandonia told The Washington Post the bottle Tortorella threw hit her in the head. "He was losing and he was frustrated, I guess," Chandonia said, according to the report. "I couldn't believe it. I looked up, and he was throwing the water bottle — and then it hit me right here, right in the head, and it bounced off me."

Fans in the seats around Chandonia confirmed the bottle-throwing and said Tortorella also squirted water through two panes of glass before throwing the bottle, according to the report.

"Good job by our fans. Our fans are one more player for us. They do what they have to do for us," Capitals star Alex Ovechken said Saturday morning at the team's practice.
You may recall Tortorella's stance against the "embarrassing" antics of wild cards like Avery—who he has mostly helped keep in line since the two were united in New York. But you know ... it was just a little water. Since when are coaches not allowed to cool off fans with a refreshing drink? Or maybe a stick to the face?
G/O Media may get a commission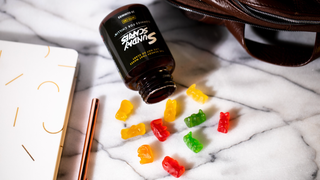 10mg CBD Gummies (22-Count)
New York Rangers coach John Tortorella suspended for Game 6 [ESPN]
John Tortorella Goes Nuts After Capitals Fan Dumps Beer On Him [Total Pro Sports]
Capitals-Rangers Preview [AP]