Because no one reads the newspaper, and SportsCenter's anchors are too perky for this early in the morning, Deadspin combs the best of the broadsheets and internets to bring you everything you need to know to start your day.
•The Nets clean house, mortgaging their immediate future for an even more futurer time. Gone are Terrence Williams and Joe Smith in a three-way trade. Arriving are two first-round picks, Sasha Vujacic, Sasha Vujacic's generous contract, and Sasha Vujacic's reportedly generous ego. Is it Brooklyn time yet?


•That said, don't believe everything you ready about Carmelo heading to New Jersey. A Denver TV station Tweeted the trade had been completed, when they were teasing a broadcast about how a trade could be in the works. Meh, don't laugh, that's how Jon Heyman gets lucky every now and then.
•The NCAA is considering emergency legislation to rectify the giant loophole that Cecil and Cam Newton slithered through. As early as next month it could become a violation to take money to play, then claim your father did it and you didn't know about it. Which is what we all assume happened here, right?
•Smell that? Now that it's turned cold, there's upset in the air. No. 7 Tennessee falls at home to Oakland, which is just a couple more huge wins away from me consistently remembering that their school isn't in the Bay Area.
G/O Media may get a commission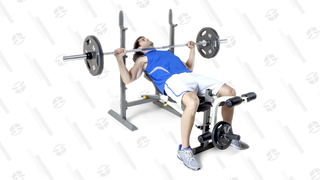 10% Off
Marcy Folding Weight Bench
•The two best teams in hockey faced off, with the Flyers handing the Penguins their first regulation loss in a month. Could this be the year Pennsylvania wins the championship in every sport? No chance, unless Pittsburgh gets a basketball team.
•The Metrodome won't be ready for Monday's game, so the Vikings will play in the University of Minnesota's outdoor stadium. They'll have a place to play, but will they have a quarterback? They're hopeful Brett Favre will be back, but if not: Patrick Ramsey!
•Jayson Werth shaved, to conform to the Nationals' facial hair policy. He looks...cold.
Photo from RL52Style, via Inside Charm City
•••••
Good morning. Let's see what we can't dig up today.