Ray Lewis was inducted into the Pro Football Hall of Fame on Saturday. He gave a speech. It was an exhausting performance, and not just because Lewis was stomping around the stage and holding poses with all the staccato swagger of the lead singer of an '80s hair metal band, mid-ballad. It was also a full-throated, aggressively self-aggrandizing performance of soaring virtue: I Am A Man Who Loves Hard Work! I Am A Man Who Loves His Fellow Man! I Am A Man Who Loves His Mother! I Am A Man Who Loves His Children! I Am A Man Who Feels Gratitude! And, most often, I Am A Man Who Loves God! 34 minutes of this, delivered in Lewis's rasping growl, is an awful lot to take on this or any other day. But here it is:
Few people can probably say whether Ray Lewis continues his wild-eyed performance of Being A Good Man in private. And, fuck it, if he does—if he's so caught up in this desperate, sweaty, rapturous self-exaltation that it compels him to perform patience and generosity towards strangers and family alike, for the sake of his own glory—certainly that is better than being a bitter, guarded, self-loathing asshole. But Lewis flatly cannot be this intense all the time, for the simple reason that the human body can only take so much, and by the end of his speech Saturday he was sweating all the way through his gold jacket. Whatever great virtue Lewis performs for the benefit of smaller crowds, it must necessarily be a quieter show, or he will quite simply be dead soon.
Here is a rundown of some of the weirder moments of what was, front to back, an extremely weird event:

1:18–3:20 Numerology
Lewis opened with a disjointed and alarmingly incoherent bit of numerology, having to do with the number seven and his jersey number (52, you do the math), and Super Bowl XLVII, and also Super Bowl LVII. The significance of all these various and in some cases cherry-picked sevens—Lewis mentioned that he picked his number because it equals seven—is that God is "something else." Truly God is great because there are numbers and certain combinations of them equal seven, therefore I am His divine messenger.
7:35–8:23 Dancing for God
Inevitably Lewis would have to talk about his signature pregame dance, and he got it out of the way early, as a way of demonstrating that he is truly a Man Of God:
"People always talked about my dancing, right, and they always liked to see Sugar hit that thing ... But, you know, when I found out, seriously though, as I started going—and [Coach John Harbaugh], you remember this, the conversation we had—because I didn't want the light to necessarily be on me, because it wasn't really about me ... So when I started coming out of the tunnel I really wanted to start to honor God. So it was funny, right, because when I went to the right, right, it was for the Father; when I came to the left it was for the Son; when I came back for the middle it was for the Holy Father and Son, all in one."
G/O Media may get a commission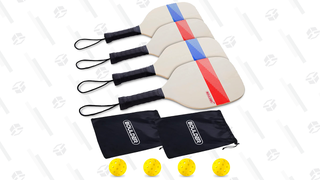 It's Pickleball
Pickleball Sets
10:00–11:42 Introducing the Kids
Some people introduce their kids as part of a story about how their kids inspire or humble them. Some people do it for the pure joy of causing their ungrateful children great embarrassment. Ray Lewis did it as part of a point about what a loving and dedicated father he is, but of course this did not spare his children a moment of terrible embarrassment:
"The greatest thing that I can give you as a father is the truth. That's all daddy can give you. I can buy you many things! But the reason I'm with you right now, and every one of my kids, is because of the truth! That what I didn't have—the touches and the hugs and the kisses that I give you—I never had that! I never had a father physically touch me, and tell me he loved me. That's why I hug you guys so much. That's why I'm still kissing you in the mouth! Yeah, I kiss all my kids in the mouth."
Arguably this was the best moment of the entire show, watching Lewis's kids react to their dad spilling this particular detail of their family life:

12:25–16:11 Men of Faith Made Me Attila the Hun
Ray Lewis really wants you to know and remember that he grew up without a father, and that what he lacked in an available biological father, he made up in collected father figures, many of whom seem to have been pastors:
"My relationship with pastors is so vibrant, it's amazing. And they have guided me throughout my life and continue to guide me to this day. I have to thank every pastor that has been in my life, and has prayed for my life, and is still in my life."
The influence of preachers is evident in the rhythm and cadence and patterns of Ray Lewis's speech (and also this speech), but this discussion of influence quickly went in an unexpected direction:

"Listen here: Lakeland, Florida? Wow. Polk County! Polk County is in the building. Lakeland turned me into a man. Lakeland turned me into a warrior. Lakeland turned me into an inspirer. A conquerer!"
Lakeland. Is. SPARTA!
16:54–17:30 The Hardy Boys
By this point in the speech Ray was pouring sweat, and he wasn't even halfway done. Men of Faith became Lakeland, and Lakeland became the story of Ray's childhood friend Kwame Harris, which led to this brief tangent:
"So we started this dance group, called the Hardy Boys. Yeah I know, I gave away a deep secret. But just know this, you'll never see the film, ever. Never."
20:03–21:03 The Mother Collector
Your mileage on this will vary. While shouting out various fellow Miami Hurricanes in the crowd, Ray decided he must bring attention to two women in the audience: Charlie Mae Postell, the mother of Ray's college roommate, Marlin Barnes, who was murdered in his apartment in 1996 by a friend's ex-boyfriend; and Lucille McNair, the mother of Steve McNair, who was murdered in 2009, a year after he retired from football following a two-year stint in Baltimore.
There's no particular reason why these women shouldn't have their names called, but they are introduced to the crowd seemingly so that Ray could make the point that he, Ray Lewis, has been good to them in the years since the deaths of their sons. Ray said of Charlie Mae that they have "stayed with each other since Marlin is gone," and announced that "Mama" McNair "gained a son," before declaring that he has "many mothers who've lost sons."
These moments were meant to be inspirational, I think—here is how Ray is a Good Man, and so you should strive to be a Good Man in these ways—but there's an icky, uncomfortable quality of self-congratulation that turns them awkward. He did get around to thanking Lucille McNair, but it's never entirely clear what the audience was meant to applaud, other than Ray's big-heartedness. Never mind, the crowd certainly obliged.
21:08–21:23 Baltimore!
"Baltimore. Baltimore. Baltimore! Baltimore! Baltimore! Baltimore! Baltimore! Baltimore! Baltimore!"
21:24–21:40 Jonathan Ogden
22:28–23:00 The Greatest Visionary Ever
Here is an absolutely bonkers statement:
"The greatest visionary ever, to me, was Art Modell. A vision!"
This was Ray Lewis describing Modell yanking the Browns out of Cleveland and relocating them to Baltimore as "blessing a city." We live in the one timeline in the multiverse where football is such an insane, overblown obsession that Art Modell could be described as "the greatest visionary," and not, you know, as objectively a prick.

24:04–24:25 Lingering on Rex
Here is what happens to your face when Ray Lewis calls you out immediately before launching into a mention of the time he was involved in a double homicide:
24:11–24:50 When Two Other People Getting Murdered Is God Testing You
"1999 to 2001 may have been some of the darkest moments of my life. But I'll tell you something: When God says 'can you hear me now?' he sends you a family to make sure you're okay while you're going through what you're going through."
That's as much as Ray Lewis had to say on the murders of Jacinth Baker and Richard Lollar. That was just a thing Ray Lewis was going through.

24:50–25:25 Michael Phelps?
Michael Phelps! Sure.
It would be tough to overstate just how random and weird a pivot this was. Just when it seemed like Ray might take a moment to reflect upon the double murder that led to his conviction for obstruction of justice, he just randomly shouted out Michael Phelps and changed the subject to how much the two of them love Baltimore.
It was at this point that Ray finally said he'd be "coming to an end," 25 minutes in and just about two-thirds of the way through the speech. This would be some runway.
29:28–29:50 Put Prayer Back in School
The final third of Lewis's speech was an even more crazed and animated segment about developing "real leadership" in America, and football players banding together to "leave a legacy bigger than football, bigger than sports!" Which lead to an unbelievable sequence, where a sweat-soaked and wild-eyed Lewis pinpointed the real issues facing Americans today: sex-trafficking, and a lack of prayer in school.
"I want us to work together, to really take on these challenges. To look at our goals, at what unites us. Surely there's something! How about stopping our kids from dying in school? Can we please put prayer back in school? Please!

"How about protecting our children from a terrifying life of being sex-trafficked? I'd lose my mind if my daughter got—"

It seems that the simple solution to what ails us, in addition to uhh kids praying in school, is love, and that providing moral leadership in these troubled times is "no different" than what the good football men did to make it to the Hall of Fame.

Lewis seems to believe this very deeply—it strikes me as the first part of the entire speech where the moral wasn't simply I, Ray Lewis, am a very good man—but it all echoes the same gooberish square-jawed General junk that keeps retail Self Help and Business sections filled with leadership books by fucking Brian Billick.
From here the speech became a more-or-less standard, if remarkably lathered, motivational sermon.
"In the next 30 days I want you to think about why you get up in the morning. What is most important to you in this life? Are you living every day to make this world better?"
32:09 PREACH IT RAY!
A man in the crowd is overcome with spirit.
32:28 In Closing, I Have Watched The Lion King
"Leave you with this last thought. Dr. Myles Monroe compares leaders to the king of the jungle. He says the lion is not the tallest animal in the jungle; the lion is not the largest animal in the jungle; the lion is not the smartest nor the most intelligent animal in the jungle. And yet when the lion shows up he is king."
Lions do not live in the jungle.