It looked like Kansas City's Eric Hosmer hit a home run today against the Tampa Bay Rays. His long fly ball to left was slicing toward the foul pole and would've gone over the fence for a run, if not for outfielder Corey Dickerson reaching over the short fence to rob Hosmer.
If it makes Hosmer feel any better, it would've been a cheap one anyway. That's a short, low fence.
That wasn't the only great catch of the game. The next inning, a Rays ball boy made a nice leaping catch of a line drive in foul territory.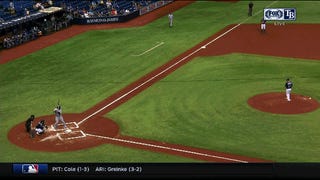 Everyone's flashing leather in Tampa today.