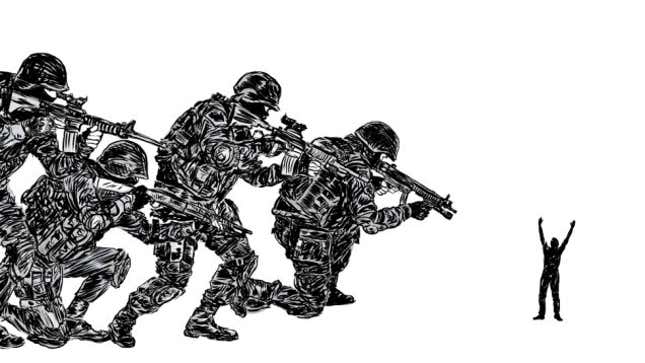 Officials in Fairfax County, Va., apparently hoped to use the cover of Super Bowl weekend to help them continue to downplay the murder of a citizen by a public servant.
Are the Oakland A's a failed state? | Agree to Disagree
Late last Friday night, the county dumped an estimated 11,000 pages of documents, plus audio and video files, related to the Aug. 2013 death of John Geer, who was shot by police while standing in the front doorway of his home after officers responded to a report of a domestic dispute. (The documents can be found here.)
Jeff Stewart, a Fairfax resident and witness to the killing of Geer, whom he describes as his best friend, says the document dump was "the opposite of transparency, [disguised] as transparency."
"They do it now," he says, "just throw thousands of pages out there, because they know nobody will read it."
The county's odd response, similar to a cranky debtor paying off what is owed in pennies, comes 17 months after Geer was killed. The file dump also occurred only after Geer's killing got increased local attention as the result of civilian deaths at the hands of police in Ferguson, Mo., and Staten Island, N.Y., and following both Sen. Chuck Grassley (R-Iowa) and the U.S. Department of Justice getting involved in the investigation.
Amid the mountain of reports, at least four Fairfax County officers say exactly what Stewart has been saying since he saw his buddy murdered: Police shot Geer when he had his hands up and was unarmed. Officer Adam Torres was named only last month as the shooter, and that information was disclosed to Geer's survivors only as part of a court order in a civil case filed by Geer's survivors.
Shortly before being shot in the chest, according to one of the handwritten reports from a Fairfax County officer on the scene, Geer had asked Torres to stop pointing his gun at him. "I don't want to die today," Geer said.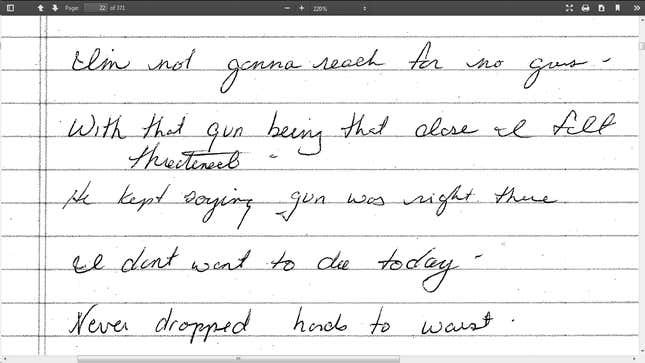 Police officer's recounting of some of John Geer's final words

---
Geer repeatedly refused officers' requests that he leave his house. "I know my rights," he told police after one such request, according to a handwritten report. "I know what's gonna happen if I come out."
Stewart now says Geer learned about those rights after an incident in the 1990s when they went out drinking together and were pulled over by the police. Stewart was driving and Geer was in the passenger seat. An officer asked Geer to step out of the car. "He got out and they arrested him for drunk in public," says Stewart. "He learned he could have stayed in his car and he never would have been arrested. So he was going to stay in his house, and he was telling the police he knew that he has a right to stay in his home, and that if he came out they'd arrest him."
Torres has never been charged with any crimes as a result of Geer's shooting, and, despite the evidence, remains employed by the Fairfax County Police Department.
The Washington Post's story on the document dump got a comment posted by "aculosi":
It's good to know that John Geer's father and his two daughters...have the benefit of several police officers' statements...that contradict what Officer Torres claimed about their loved one's hands being at his waist...when he was tragically shot and killed. The shame is...in addition to their son and father being unjustly taken from them...the FCPD had them wait all these months for answers to their questions ...and the information...they were not only entitled to...but deserved to have. As for the officers who spoke the truth of what they witnessed...bless you.
Anita Culosi of Annandale, Va., confirms that the posting was hers. Nine years before the document dump—to the day—she buried her son, Sal Culosi. He was an optometrist who was killed by Officer Deval Bullock of the Fairfax County Police Department's SWAT team while standing unarmed in front of his house. Culosi's killing came as the police were about to arrest him after a sting operation in which he allegedly took football bets from undercover officers throughout the 2005 NFL season. The arrest was apparently timed to coincide with Super Bowl XL, which would take place days after Culosi died. Bullock was never charged with a crime as a result of the shooting, and kept his job with the department until his recent retirement.
Image by Jim Cooke