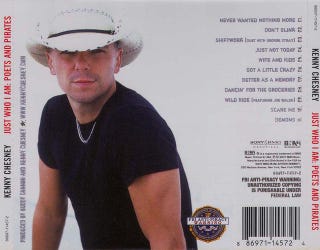 A few months ago, the Redskins marketing department began the annual, Sisyphean task of convincing people to pay money to watch their team play football eight times. Realizing that this would be a tough sell, especially to those it had tricked before, it threw in a perk: people who renewed their plans before March 1st would get free tickets to a FedEx Field event of their choice. Choices included games like Manchester United-Barcelona and Notre Dame-Maryland. Pretty cool, right? Customers also had the option of a Kenny Chesney concert, which they likely appreciated as wry humor from the front office. How does it go? "What's the only thing worse than going to a Redskins game?" That Dan Snyder sure appreciates a joke.
But the concert offer was all too real. Thus unfolded a series of events that everyone except the Redskins could have predicted: season ticket holders picked free tickets to see the best two soccer teams in the world and a historic college football matchup, and no one wanted to see Kenny Chesney. As a result, many customers received this email:
Because you paid for your 2011 Redskins season tickets prior to the March 1 renewal deadline, you will receive 4 complimentary tickets to the Kenny Chesney concert on June 4, 2011. Unfortunately, tickets to your first-choice event were over-subscribed, so you have been assigned the Kenny Chesney concert. Your tickets will be in the Upper Level and will be mailed to you along with a complimentary parking pass in the coming weeks.
Instead of watching the genius of Leo Messi, many Skins fans now have nosebleed seats to see the genius of albums like "All I Want for Christmas is a Real Good Tan" and "Greatest Hits II." Redskins marketing, in its attempt to add a good event on top of eight bad ones, was only offering a gilded turd in the first place. But now it just looks like it made things even shittier.

Update: Apparently there's a way out of the Chesney concert: a plan upgrade.
tix were limited, but I got an email from Skins last wk that I could get terps game if I upgraded my season tix. BS
Kenny Chesney concert is very Redskins [D.C. Sports Bog]