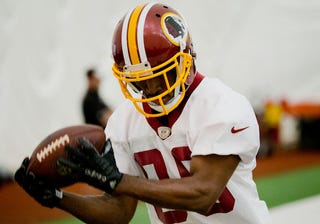 The Washington Redskins are investigating fourth-round pick and former Duke receiver Jamison Crowder after an Instagram photo posted to his account Wednesday night of a woman with bruises and cuts in her mouth.
Twitter user @TJMartinez21 grabbed screenshots of the photos and text. The Instagram was apparently sent from Crowder's account, but appeared to be written from the voice of someone else. The writer alleges domestic violence at the hands of Crowder:
Per Alex Marvez of Fox Sports, the team acknowledged "an off-field situation" involving Crowder. The NFL is also aware.
Update (6:46 p.m.): Crowder's agent Tory Dandy told ESPN that Crowder's account was hacked. "Jamison hasn't hit anybody," Dandy said.
Photo: AP
---
Contact the author at samer@deadspin.com.