Ken Rosenthal of The Athletic has a fantastically detailed story about how Astros first base coach Rich Dauer came very close to death before being rushed into emergency brain surgery from the team's World Series championship parade last month.
Dauer slipped and hit his head the night before the parade. At the time, though, he thought he was fine. It wasn't until the next day—while on stage with the rest of the team as they were being introduced to the crowd of more than a million—that he started to feel unwell. As he began staggering and becoming unresponsive, the team's athletic trainers tried to figure out how to get him through the throngs of people to an ambulance. But they assumed the 65-year-old was simply dehydrated—not that he had an acute subdural hematoma that would be life-threatening. The situation began to look more serious while Dauer was being transported to the hospital, and by the time he'd arrived, it was clear that something was very wrong. He was in respiratory arrest when the ambulance made it to the hospital, and he'd fallen into a coma before the doctors could begin the operation that would save his life.

Rosenthal's story is worth your time in full, but know that Dauer pulled through the operation and subsequent recovery process without any serious complications. This despite the fact that the odds were never in his favor—he had just a 3 percent chance of surviving the surgery, and the chances of surviving without significant brain damage were even slimmer.
Dauer, who played for the Orioles in the '70s and '80s, had already decided to retire from coaching after the World Series title.
"The magnitude of what he had wrong was intimidating, astonishing," said Dr. David Lintner, the Astros' head physician. "The pace of his recovery was just as astonishing."
G/O Media may get a commission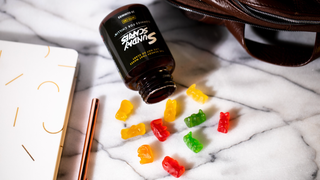 10mg CBD Gummies (22-Count)