Trent Richardson didn't travel with the Colts to New England for the AFC Championship Game for what were termed "personal reasons" by multiple reporters at the time. Well, we now know what those personal reasons were. According to The Indianapolis Star, Richardson missed a morning walkthrough because of "serious complications with his girlfriend's pregnancy that could potentially have endangered the life of the child."
The Indy Star goes on to report that Richardson's girlfriend "appeared to be in premature labor at just 28 weeks of pregnancy," and he rushed her to the hospital. At the time, Richardson told ESPN that he missed the walkthrough because of a "serious family emergency," and that he "wouldn't purposely just miss walk-through." The Colts later suspended Richardson without pay for two games.
With the suspension, the suspiciously timed leaks that he was overweight, and his generally uninspired play for the Colts, it seems pretty clear that the Colts are trying get rid of Richardson. They could just release him, but would still be on the hook for over $3 million in guaranteed money. But, as the Indy Star notes, Richardson has certain language in his contract that would allow the team to void his deal, and they're probably going to try and do it:
Now, the Colts' handling of Richardson could come under scrutiny because being suspended for conduct detrimental to the team allows the Colts to cut the underperforming running back without paying the final season of his current contract.

Default language in Richardson's contract permits the Colts to release him and void the remaining $3.184 million in guaranteed money for a wide range of reasons. Those reasons include a failure to report, incarceration and — as is the case here — suspension by the team.

If the Colts release Richardson, who was the third overall pick in the 2012 draft, and withhold his 2015 salary, things will almost certainly get contentious. Such action would likely prompt his agent to file a grievance on Richardson's behalf, with an arbitrator ultimately deciding whether the team's position is justified.
G/O Media may get a commission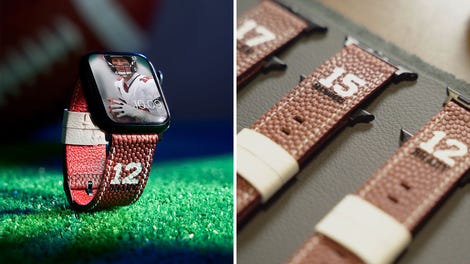 Official NFL PRODUCTS
Official NFL Apple Watch Bands
It must have been frustrating for the Colts not to know where Richardson was on the eve of an important game, but voiding his contract because he didn't remember to call the team while dealing with a serious threat to his girlfriend's (and unborn child's) health seems incredibly callous.
Photo via David Richard/AP