Daily fantasy company DraftKings is trying to cut back on its ad spend and hiring one of the nation's foremost lawyers in preparation for a huge legal battle in New York, according to Bloomberg.
Earlier this week New York's attorney general sent cease and desist letters to DraftKings and FanDuel, ordering them to stop taking bets from New York residents because daily fantasy is illegal in the state. As they have throughout a trying month filled with investigations by every government agency imaginable, the two biggest daily fantasy players struck a defiant tone. But unlike with previous setbacks—like when Nevada banned daily fantasy—this time they're going to fight.
Here's a statement DraftKings sent out yesterday (emphasis mine):
"We believe this was a hasty and uninformed decision by the New York Attorney General. Fortunately, there is a process by which DraftKings can challenge it in a court of law in an effort to prevent us from having to cease operations in the state of New York. We are working with the international law firm Gibson, Dunn & Crutcher LLP on all civil matters, investigations and regulatory inquiries, including the current situation in New York. The Gibson Dunn team is led by Randy Mastro, co-chair of Gibson Dunn's Litigation Practice Group and one of the nation's leading litigators. Gibson Dunn has a team of former federal prosecutors to oversee the various inquiries and investigations. Their experience, judgment, and expertise will help us work towards appropriate resolutions. We intend to pursue this fight to the fullest to ensure that New York fantasy sports fans can continue to play the games they love."
G/O Media may get a commission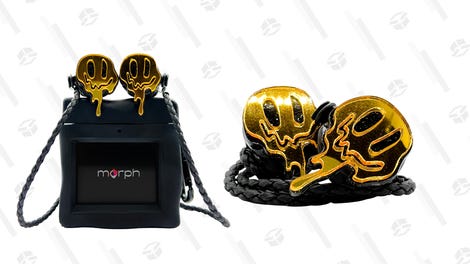 morph audio
Morph Earphones
Apparently the international law firm of Gibson, Dunn & Crutcher LLP—which is one of the 20 biggest law firms in the country with over 1,200 lawyers—wasn't enough, because Bloomberg reports that DraftKings has also hired Boies, Schiller & Flexner LLP. You may recognize Boies, as in David Boies, as Al Gore's lawyer in Bush v. Gore, or perhaps one half of the legal team that got California's Proposition 8 banning gay marriage overturned. He has represented the NFL in the past, and represented NBA players in the 2011 lockout. He's a big fucking deal.
But how is DraftKings going to pay for two pricey law firms in what is potentially going to be a drawn out and costly legal battle? By cutting into that seemingly endless advertising budget, apparently.

According to Bloomberg, DraftKings has begun asking the NBA teams it partners with if it can defer scheduled payments, and it wants to pay less in product placement costs:
Now facing legal challenges in several states, at least one of the biggest daily fantasy sites is asking its major league partners to let it pull back.

DraftKings has asked some of its National Basketball Association partners to defer about 10 percent of its committed payments, according to people familiar with the deal. It has also asked that its signs and banners in arenas show up on television less often, according to one of the people.
While the NBA itself struck a deal with FanDuel, DraftKings has partnerships with at least eight NBA teams: Boston Celtics, Golden State Warriors, Houston Rockets, Los Angeles Clippers, Minnesota Timberwolves, New York Knicks, Philadelphia 76ers, andSacramento Kings.
Neither DraftKings nor FanDuel is currently profitable, with most revenue being funneled back into advertising costs. Instead they are being buoyed by venture capital money: nearly half a billion of it, in DraftKings's case. But with two states banning daily fantasy in the last few weeks and more surely to come—hey look, it's a bill to ban daily fantasy in California—as well as ongoing probes by the federal government, it seems DraftKings has finally reached a point where its bottomless pit of money looks a little less bottomless.
Photo via Getty; Illustration via Jim Cooke
---
E-mail: kevin.draper@deadspin.com | PGP key + fingerprint | DM: @kevinmdraper