Graham Spanier, the Penn State president fired last November in the wake of Jerry Sandusky's arrest, will be charged with perjury and obstruction of justice in connection with the Sandusky case, according what sources told the Pittsburgh Post-Gazette. The Pennsylvania attorney general's office is expected to announce the charges at a press conference within the hour.
Spanier was one of four Penn State officials cited in July by the university-commissioned Freeh report for allegedly failing to do anything to stop Sandusky years ago. Two of those PSU officials, on-leave athletic director Tim Curley and former senior vice president for business and finance Gary Schultz, are awaiting trial for perjury and failure to report abuse. The other, Joe Paterno, died in January.
According to the Post-Gazette, Spanier's perjury charge may result from his having told a grand jury that he had no knowledge of a 1998 police investigation into Sandusky's behavior that, at the time, did not lead to an arrest. But among the Freeh report's findings was an email Schultz sent to Spanier in '98 that referenced the investigation. In the weeks after the Freeh report's release, Spanier's lawyers angrily denounced its conclusions, and Spanier did interviews with the New Yorker and ABC News in which he defended himself.
Spanier, Curley, and Schultz remain the only other individuals charged in connection with Sandusky's crimes. Numerous investigations into Sandusky's former charity, The Second Mile, are reportedly ongoing.
Update (11:38 a.m.): The indefatigable Sara Ganim has the court docket sheet. Spanier is also being charged with endangering the welfare of children, and it appears all of the charges are connected to the 2001 incident in which former PSU assistant coach Mike McQueary witnessed Sandusky touching a boy in the school's football building shower. That incident was never reported to police or child welfare authorities.
G/O Media may get a commission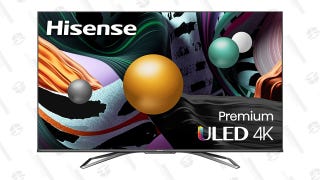 Save $350
Hisense ULED 65" Android 4K HDR Smart TV
Update (12:00 p.m.): Ganim is also reporting that additional charges of "obstruction, endangerment, and conspiracy" have been filed against Curley and Schultz.
[Pittsburgh Post-Gazette; image via AP]