Jaguars cornerback Jalen Ramsey and Bengals receiver A.J. Green were ejected from Sunday's game after Green choked and punched Ramsey. It was a moment of purposeful violence in a sport that is perpetually trying to control uncontrollable brutality.
Weirdly, Ramsey was tossed from the game just like Green, even the Jaguars player merely delivered a late shove—not polite, but also not something that would warrant an ejection. According to Ian Rapoport, the officials had thought Ramsey had punched his opponent.
He clearly had not: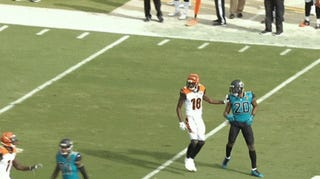 ESPN reported that Ramsey tried to continue the scuffle in the locker rooms:
According to multiple sources, Ramsey was then seen being restrained by Jaguars personnel and EverBank Stadium security. He was spotted heading toward the Bengals' locker room before he was restrained, and as the Bengals came in at halftime, he started screaming profanities once he spotted them. Ramsey was also heard yelling that he was going to go find Green once security let him go.

Ramsey did not go in the locker room and was told to return to the Jaguars' locker room and did, a source said.
Green apologized for losing his temper, and he also won't be suspended. Out of all of Sunday's NFL scuffles, only Bucs receiver Mike Evans—who laid out Saints cornerback Marshon Lattimore—received any punishment, in the form of a one-game suspension.