Newly hired Detroit Lions head coach and former New England Patriots assistant Matt Patricia was indicted by a grand jury on one count of aggravated sexual assault in 1996, according to a report from the Detroit News. Patricia, who was 21 at the time, was charged alongside a teammate of his on Rensselaer Polytechnic Institute's football team. Neither man ever stood trial.
According to a newspaper article from 1996, the woman met Patricia and his teammate during "Texas Week," a massive party on South Padre Island just north of Mexico. From the report:
At approximately 6 p.m. on Friday, March 15, the men arrived at a room at the Radisson hotel where the woman was sleeping, the newspaper reported.

Patricia and Dietrich "burst into" the room and awoke the woman before taking turns sexually assaulting her, according to the newspaper.
There are few other specific allegations about the incident, since it happened 22 years ago. The News said that the police report from the incident had been discarded, and "the police chief, lieutenant, grand jury forewoman, prosecutor, assistant prosecutor (and) defense attorneys" all could not remember the case. The alleged victim also did not respond to attempts by the News to contact her, but according to court records, she ultimately decided not to testify in the case.
With no trial, there was no finding of guilt for either man, and the case was dismissed in January 1997. "Victim does not feel she can face the pressures or stress of a trial," reads a note from the Assistant District Attorney in the motion to dismiss the case.

G/O Media may get a commission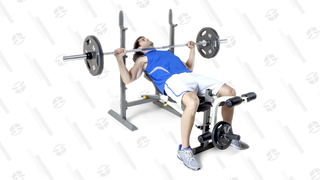 10% Off
Marcy Folding Weight Bench
According to the report, the Lions said they were unaware of the indictment when they hired Patricia, as their background check only covered criminal convictions. But while team president Rod Wood said he was initially surprised by the news, within hours he delivered a strong statement of support for the coach:
"I am very comfortable with the process of interviewing and employing Matt," Wood said. "I will tell you with 1,000-percent certainty that everything I've learned confirmed what I already knew about the man and would have no way changed our decision to make him our head coach."

Wood also said the woman recanted the sexual assault allegations multiple times — a claim not substantiated by existing records or lawyers for Patricia and his fraternity brother.
You can and should read the full report here.